FanciFULL Mosaic Vest
Jul 14, 2023 10:00AM—Jul 16, 2023 5:00PM
Location
SEFAA Center 3420 W. Hospital Ave Chamblee, GA 30341
Categories Workshop - National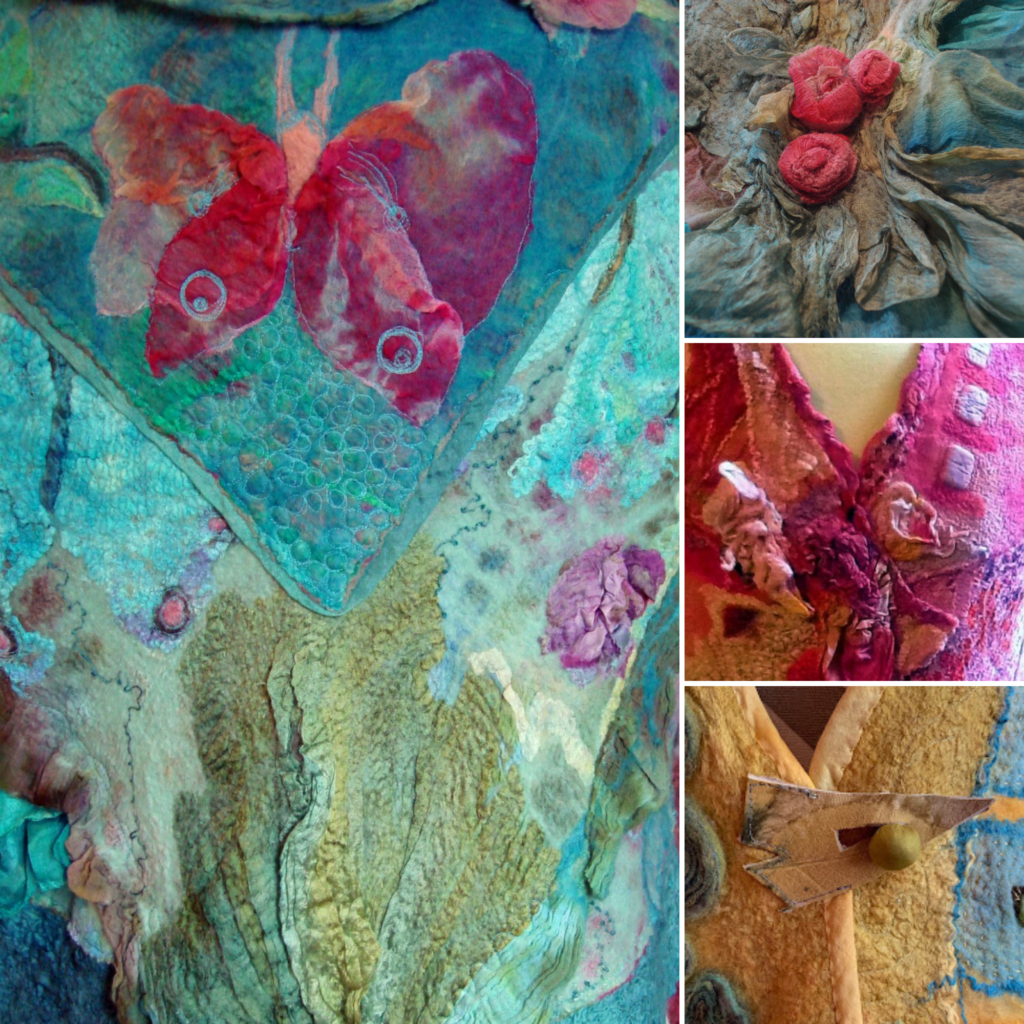 Felting + sewing + zero-waste construction = your own unique wearable art vest! In this three-day workshop, you'll learn how to create colorful, textured felt yardage: Starting with a lightweight silk base you'll add wool fiber and then create surface design with a mosaic of lightweight silks and a variety of silk fibers. Then, you'll cut up your felt and stitch it together to create a one-of-a-kind wearable art vest.
Day 1 will focus on designing and wet felting the base fabric and incorporating ruffles, pleats, rosettes, and inclusions for surface texture. On Day 2 you'll complete the felting process and creatively cut out your pattern pieces (a vest pattern will be provided for you to trace and adapt). Finally, on Day 3, you'll sew your felt into a fabulous art-to-wear vest with a crossover front and a simple felt ball and loop closure. You'll leave with a unique piece of clothing that you'll wear for years – your colors, your style, your creation!
Instructor: Margo Duke was born in Scotland and came to the US with her family when she was twelve years old. Some of her ancestors were Harris Tweed weavers, so the love of working with fiber and color is in her genes. She knits, crochets, natural dyes/prints, hand stitches, makes paper, and smocks special textile works. Her felting journey began in the early 2000s when she discovered the brand-new Baby Lock Embellisher. This fascinating needle-felting machine became a wonderful and colorful obsession, and Margo has since authored two books on the topic. She also teaches widely, and she has won numerous awards for her garments, including several Best of Show ribbons at Maryland Sheep and Wool Festivals.
$420 – $500
Note: You will save at least $20 on your class registration if you become a SEFAA member first.
Additional Supply Fee: None.
Scholarship Available: One available once seven students have registered. Please email for more information.
Level: All
Number of Students: 6 to 10
Required Supplies: Click here for the supply list.
Class Schedule: Class will be in-person at the SEFAA Center from 10 am to 5:00 pm on Friday, July 14th, Saturday, July 15th, and Sunday, July 16th. There will be a one-hour break for lunch, and there are a refrigerator and a microwave available for your use at the SEFAA Center.
Covid 19 Policy: SEFAA is following the CDC COVID-19 Community Level guidelines for DeKalb County, Georgia. Masks are only required in the SEFAA Center at High Covid-19 Community Levels.