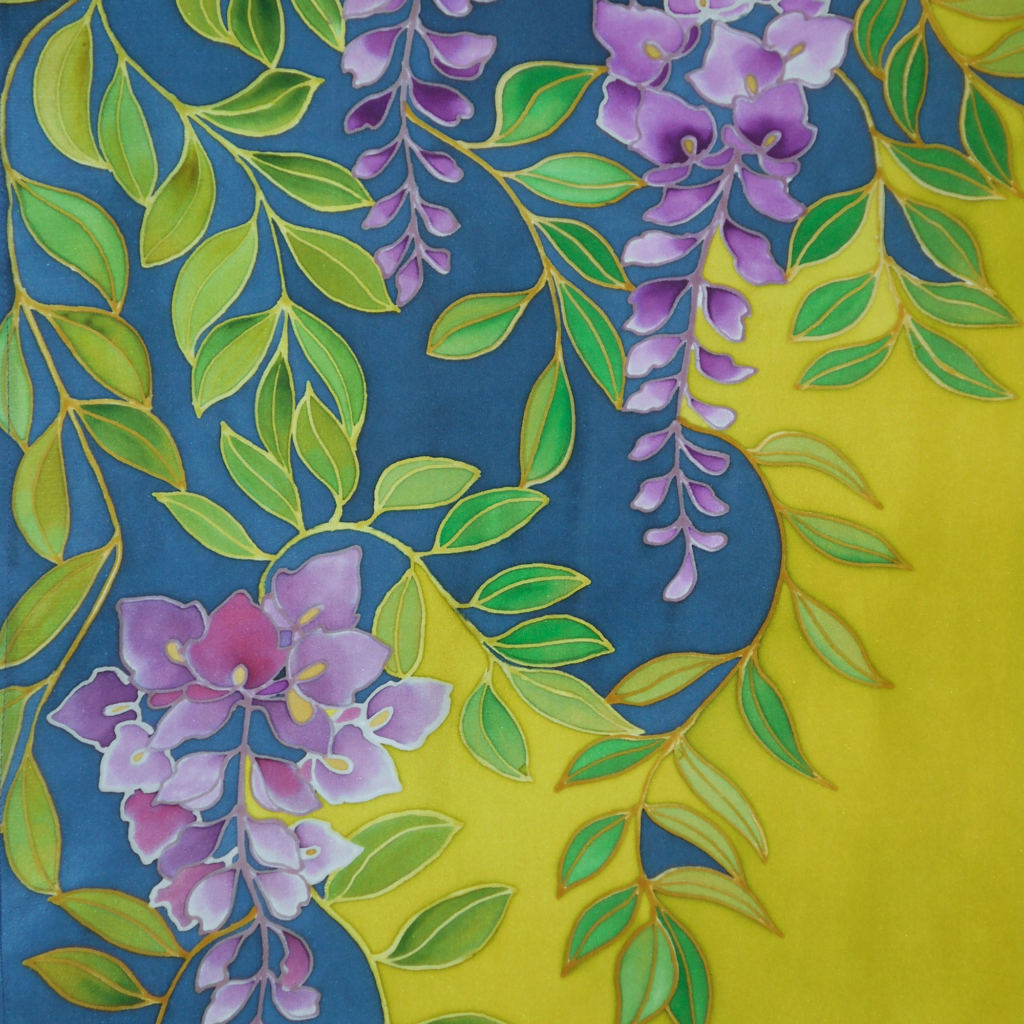 Originating in the Orient, silk dye painting is a beautiful textile art form that uses dye to create permanent vibrant colors on silk fabric. You'll learn many techniques for silk dye painting in this five-session class, focusing on the "serti" or resist-lines method and using a safe, water-based resist. You'll work on 18″ x 18″ silk squares to master techniques and to gain the confidence and knowledge you'll need to create complicated dyed paintings later. Sessions will be 3-hours long with a week or more break in between sessions for you to "digest" what you've learned before exploring other techniques. Finally, during the last class, you'll learn how to use your finished squares – as textile paintings and more!
Originally a ceramics major, Hellenne Vermillion fell in love with silk painting over ten years ago and she's been creating various silk works for shows and art sales ever since. Her work has been featured three times on the cover of Silkworm magazine and has been in many silk art shows. She is also an experienced, giving, and patient instructor who teaches a wide variety of textile techniques. View Hellenne's artwork at hellenne-vermillion.com.
$225 – $270
Additional Supply Fee: None, the class kit fee of $20 is included in the cost of the class. The kit includes 1/2-yd 10 mm habotai silk, an 18″ square of silk charmeuse, an 18″ square of silk gauze, four eye dropper bottles filled with basic dye colors, an applicator bottle with nib filled with Resistad plus the use of the instructor's supplies and equipment. Note: The class kit will last for at least the first two sessions. At the first session, you'll be given information about ordering your own habotai silk, Resistad, and basic dye colors for the remaining sessions.
Scholarship Available: No
Level: Open to all skill levels.
Number of Students: 5 – 10
Required Supplies:
Gloves.
Apron
Inexpensive watercolor brushes – round and that come to a point about 3/8″ or more in (not stiff oil/acrylic brushes).
Class Schedule: Class will be in-person at the SEFAA Center from 1 to 4 pm on the following days:
February 13
February 20
February 27
March 12
March 13
Covid 19 Policy: Mask wearing is mandatory in the SEFAA Center regardless of vaccination status.