Toned Down Circle Sampler
May 07, 2023 9:00AM—May 21, 2023 1:30PM
Location
SEFAA Center 3420 W. Hospital Ave Chamblee, GA 30341
Categories Hybrid - Class
Topics Needlework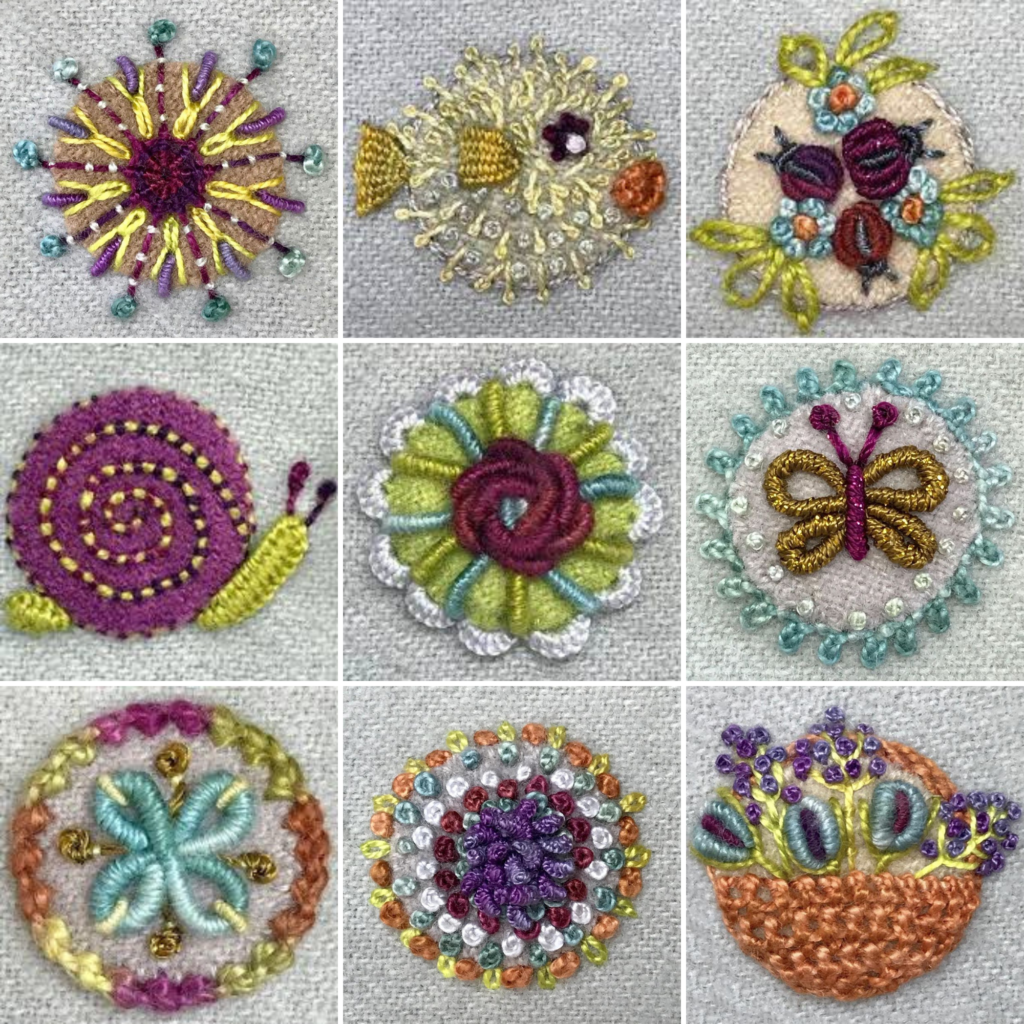 Take your embroidery and wool embellishment skills to the next level in this class! You can choose to work on all 90 or as few as a dozen of the fun, circle-based motifs like the ones pictured. The motifs are from Sue Spargo's Toned Down Circle Sampler, a monochromatic study with a modern pop that uses a variety of threads and embroidery stitches to achieve textural depth and dimension. You'll learn the stitches you need (listed below), and you'll have time between the two class sessions to practice your stitching. We'll also record the stitch demonstrations, and they will be available for your use through June 30th.
| | |
| --- | --- |
| Cast-On Bullion Knot | Open Buttonhole Filler |
| Colonial Knot | Palestrina Knot |
| Couching | Pistil Stitch |
| Detached Chain | Rosette Chain |
| Double Cast-On | Trellis Stitch |
| Drizzle Stitch | Woven Picot |

Each circle takes about an hour and a half to complete, so you won't complete the entire sampler in class. But, once you've finished stitching, you can turn your sampler into a wall hanging, pillow, bag, or whatever your imagination comes up with!
Instructor: Diana Quinn has been sewing and crafting for most of her life, learning to embroider as a child. She has continued to refine her skills as an adult and is an accomplished quilter and wool embellishment artist. Her wool-embellished quilts have won ribbons at local quilt shows.
$105 – $125
Additional Supply Fee: None.
Scholarship Available: No
Level: Confident beginner familiar with the following stitches: Backstitch, Bullion Knot, Chain Stitch, Fly and Closed Fly Stitch, French Knot, Italian Knotted Border Stitch, Wheel Stitch, Whip Stitch, and Whipped Woven Circle. (If time allows, Diana can provide refresher demonstrations of these stitches.)
Number of Students: 6 – 15
Required Supplies:
From Sue Spargo's website:
A variety of Perle Cottons – #8, #5, and #3 – plus Razzle (optional) and Dazzle (optional). You can choose to purchase the Toned Down Embellishment Threads ($122.50)
Notions:

Small scissors
Small pin cushion
Thimble (optional depending on personal preference)
Needles:

Chenille – #18 and #24
Milliners – #1, #3, and #15
Tapestry (optional) – #20 and #24
Prework: Please come to the first class with your wool background cut to your desired size and a minimum of twelve one-inch wool circles cut out and (preferably) already stitched to your background.
Class Schedule: This two-session class will be hybrid, so you can choose to attend in person at the SEFAA Center or from home via Zoom from 9 am to 1.30 pm on Sunday, May 7th and Sunday, May 21st. There will be a short half-hour break for lunch each day, so please bring a lunch or snacks with you if you are attending class in person. A microwave and refrigerator are available for your use at the SEFAA Center.
Covid 19 Policy: SEFAA is following the CDC COVID-19 Community Level guidelines for DeKalb County, Georgia. Masks are required in the SEFAA Center at High Covid-19 Community Levels.