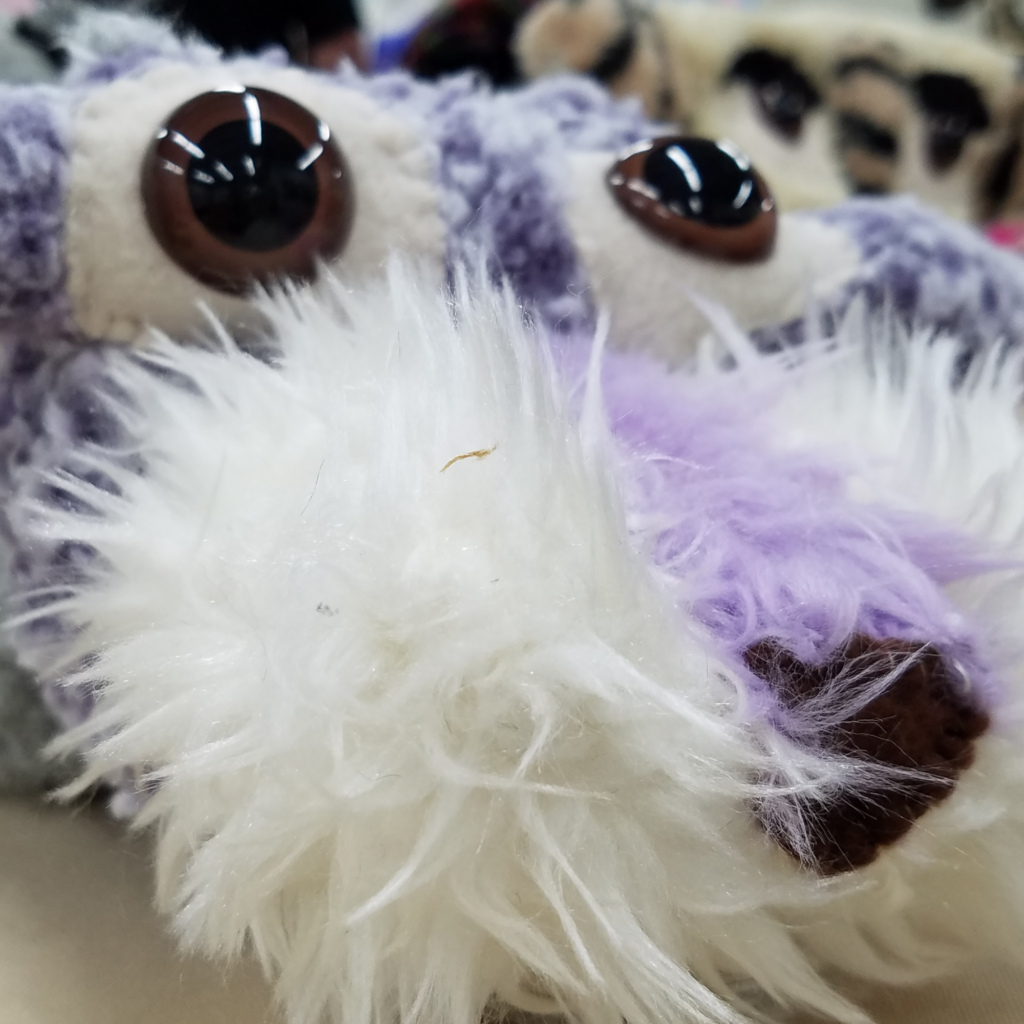 By: Corrie Habib
Betsy is a very cool artist who specializes in making puppets, and she currently serves as the Secretary of SEFAA's Board of Directors. You can find her almost every Tuesday and Thursday at Lunchtime Fiber and did you know that she is a fantastic baker as well? She's a dedicated and dependable volunteer for SEFAA as well as for other area nonprofits. Her solo show runs through the month of October 2022 and is a whimsical adventure of creatures and creativity. In honor of her exhibition, and in our ongoing series of Board profiles, she sat down for an interview with SEFAA's Center Coordinator.
Betsy grew up in the Boston area, in Newton, and didn't learn to sew or knit as a girl. She said that as a kid in the 1960's she "generally played with stuff" and made dolls and accessories to play with since at that time there were not nearly as many marketed children's playthings. She said that she doodled a lot of faces through school and she has always been interested in how faces look and work. She got her start in fiber arts in the 1980s when she was in graduate school. She began making cards from magazine covers (like the New Yorker) and when she moved to Atlanta in the Fall of 1982 she got connected with the Center for Puppetry Arts. She took a class in 83 or 84 to learn how to make puppets as gifts for her new nieces, and found…FABRIC! Betsy's face lit up and she exclaimed, "Fleece! Fake Fur!" She accompanied her husband to the John C. Campbell Folk School while he took a woodworking class, and interestingly the woodshop is located adjacent to the quilting studio. Betsy returned home and took classes to learn sewing skills. She still likes to do mostly hand-stitching because she enjoys the tactile process of touching and interacting with her creations. Her newest creative adventure involves felting–another touching and feeling and interacting kinesthetic process.
After retiring a second (and final) time in 2018, Betsy departed her life of rules and regulations as an urban planner to follow her desire to make more puppets! She says she loves it that there are only 3 rules–a puppet is something manipulated to look alive, a successful puppet has its most definitive features exaggerated and recognizable, and a puppet moves to "do that thing that you want it to do." She talked about animating huge puppets in Piedmont Park to accompany the Atlanta Symphony. Betsy loves that textiles touch us all day every day and she enjoys this interaction and the way that she follows the spirit of the fabric and color to make features that identify animals both known and imaginary. She said she's "100% winging it" and says she just "goes with it getting carried away with color." I asked her who she has in mind when she makes her puppets and she said, "I make everything for me! I'm making all the time!"
When asked what she would like people to experience or take away from her exhibition, Betsy said that she wants people to have fun. She hopes visitors will interact with the creatures and make them move and talk, saying "Creatures bring surprising personalities out in people." She has this wonderful ventriloquist puppet, Bernie, whom she made at the Puppeteers of America Festival in 1995–she started to show him in action and she said, "You just never know what's gonna come out of people when they get a puppet on their hand!" It's an interesting phenomenon…suspension of disbelief…when people lose their inhibitions interacting with something that you know isn't real but you act like it is! Betsy said puppets are amazing for young parents to use with belligerent children because kids will do things for a fluffy monster that they won't do for mom or dad. She hopes some of her puppets will find a life encouraging good behavior from a new generation of youngsters.
When asked about her joining SEFAA and becoming a part of the Board of Directors, Betsy said that she was encouraged to get more involved by a longtime SEFAA member and advocate who also regularly attends Lunchtime Fiber. Betsy said that she loves that SEFAA is all about camaraderie and not at all about competition. She's always found SEFAA to be a warm, welcoming, and friendly place where each artist builds each other up and feeds off of the collective vibe of artistic expression and enthusiasm. She thinks it is such a unique environment because everyone is exposed to and embraces other interests, other techniques, and is supported to become a better artist.
As we were wrapping up our conversation, she said that life can be very challenging but she has always found that getting lost in soft fluffy stuff helps. She finds the whole textile creative process soothing and grounding. And she left me with this thought…"Fabric is so wonderful. What if there were as many fabric stores as there are liquor stores? What if there were as many fabric, crafting & thrift stores sprinkled throughout neighborhoods as plentiful as liquor stores and waffle houses? I think society would be healthier and a lot more creative!
So in summary–come interact with Betsy's creations and consider attending Lunchtime Fiber to hang with Betsy. The SEFAA Center and Shop are open MWF from 10-4 and Tu/Th 10-2. Most of the items in the show are for sale, and it's great timing to purchase a holiday gift for your favorite "belligerent child/children."