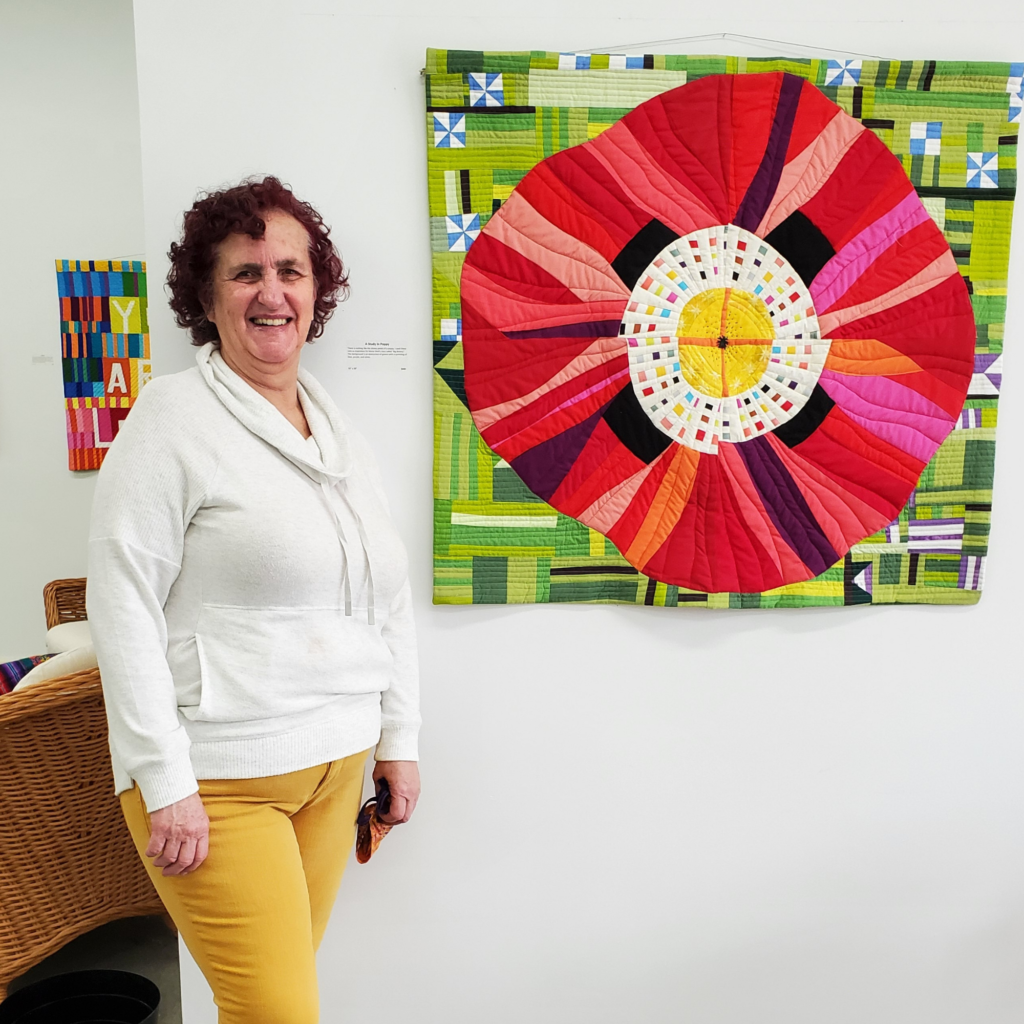 Member Profile: Laurel Rudolph
By: Corrie Habib
If you are in need of some bright and uplifting art, then Laurel Rudolph's works are what you need! Laurel now hails from the creative haven of the Boulevard district in Athens, GA but she has a rich history of life experiences from living in WI, OR, HI, CA, and NM before heading to the South. She started quilting when her daughter was born. Laurel describes that first attempt with a grin, "Eh, it was ok." But it was when she became involved with the Modern Quilt Guild around 2010 that she got serious about quilting. She's drawn to negative space, bright colors, and the less exact construction techniques of modern quilt designs, referring to more traditional quilt construction as "wallpaper" with symmetrical, repeated designs. She's happy to have her work on display because seeing her creations in person is a much different experience than just online.
From the bright interpretation of a poppy flower that greets you at the exhibit entrance, you know immediately nature is a strong influence in Laurel's designs. She says that most of her work comes together organically. Many of the panels on display at the SEFAA Center are the result of challenges from the Athens Modern Quilt Guild (currently on hold due to the pandemic) and the Studio Art Quilt Associates. Many of the quilts have a distinct 3-D element to them and when you visit, look closely to see fabric pieces that are hand-dyed using different techniques.
It's impossible to miss the messages stitched into several of her works. Although soft-spoken in real life, Laurel lets the fabric make strong statements. She says that the words "just came to her" and inspired her to speak her mind through her art. Some will make you think, and others will simply make you feel good. Clearly, Laurel is gifted with words because she has been a writer for many years and is currently working on a novel in the young-adult genre.
Laurel did an internship with the renowned quilters at Gee's Bend, AL, and remarked that the experience was transformational. You will be moved by the beauty, skill, and creativity evident in her quilts. Laurel enjoys being a part of SEFAA because she values the community of skilled artists and makers. She hopes that you are inspired by her colors, will feel happy, and can have a little escape from our pandemic-induced doldrums.
(All quilts on exhibit are offered for sale.)