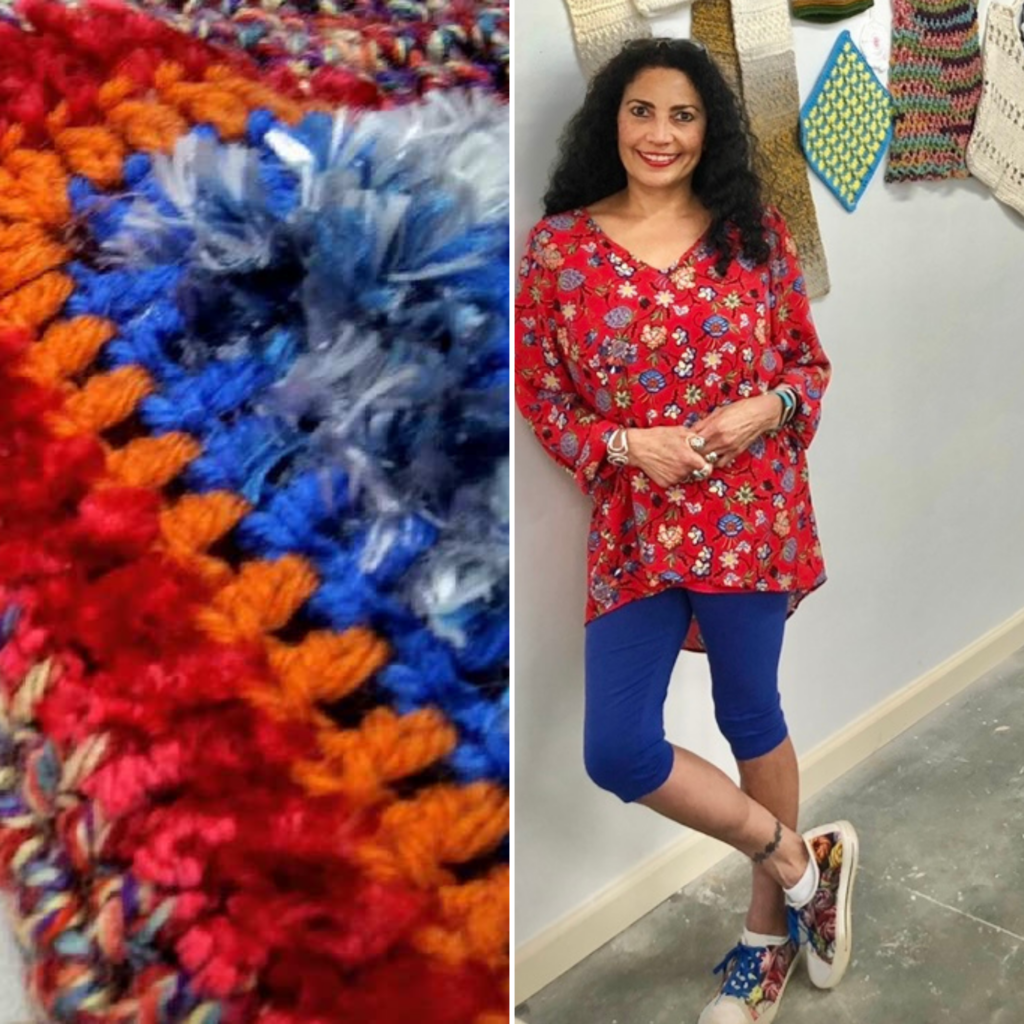 Member Spotlight: Swaantje Sass
By: Corrie Habib
Upon meeting Swaantje, you immediately notice her statement jewelry, colorful clothing, and the fact that she is an avid crocheter. And when asked about her art, she exclaims that she loves color – especially red – and she feels compelled to crochet every day. Her part of the current SEFAA exhibit, "Stitches by Sass & Quinn," is vibrantly colorful with pieces that convey a bit of whimsy and show her obvious skill with crochet stitches. When she's not wielding her hooks, Swaantje works in a federal criminal law office and serves on the SEFAA Board of Directors (she also served previously on the Board of the Crochet Guild of America). She has been involved with SEFAA for about five years and joined the board to be more involved with fiber arts and to network with other enthusiasts and artists. She also is a weaver and has a Saori floor loom.
Swaantje first remembers falling in love with crochet when, as a child, her father bought her back a gift from a trip abroad. It was crocheted purse from Peru and she loved everything about it. She learned how to crochet nine years ago when she attended a Girl Scout leader retreat at Camp Misty Mountain. She had learned to knit the previous year but didn't take to it because it "poked my fingers," so she followed up with a class on crochet and she was hooked (pun intended!). Swaantje enjoys sharing her craft with others and a few years ago taught crochet to her daughter's entire high school art department. She prefers shorter projects; purses, tops, and hats, and she sells at several festivals under the name "Happy Hooker." Several pieces in the exhibition are also available for purchase.
When asked what she would like people to take away from her exhibit, she says that she wants people to derive joy from viewing the pieces she's created and she wants everyone to learn how to crochet!
"Stitches by Sass & Quinn" is on display at the SEFAA Center through December 30, 2021.