2021 Pop Up Shop
Feb 14, 2021 1:00PM—Mar 01, 2021 1:00PM
Location
SEFAA Center 3420 W. Hospital Ave., Suite 103 Chamblee, GA 30341
Cost 0.0
Categories Event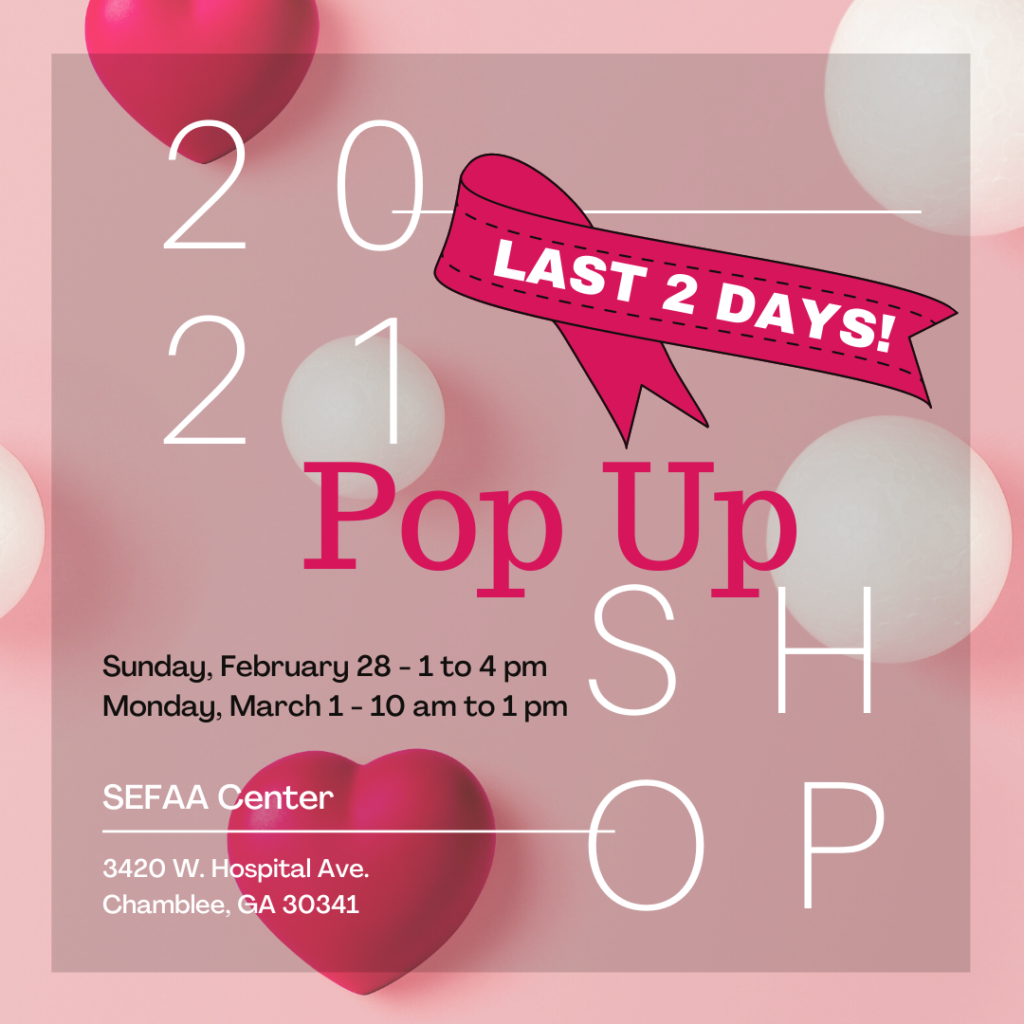 The 2021 Pop Up Shop will close for good on Monday, March 1st so that we can return the SEFAA Center to class-ready status That means you only have two days to stock up on textile supplies at rock bottom prices! You'll find a wide selection of fabric (fashion, home decore, quilting, and sari), yarn (knitting, crochet, and weaving), basketry supplies, old textiles to repurpose, magazines, books, notions, and much, much more. Trust us, you don't want to miss these deals!
This bargain hunter's delight is designed for your safety: Mask wearing is mandatory and there will never be more than 10 people in the SEFAA Center at any time. Reserve your shopping time or shop spontaneously and you'll be admitted as soon as it is safe to do so.
Remaining Pop Up Sale Dates and Times:
– Sunday, February 28th from 1 to 4 pm
– Monday, March 1st from 10 am to 1 pm
Pop Up Shop Location: SEFAA Center, 3420 W. Hospital Ave., Chamblee, GA 30341
Tickets: $5 per shopper to reserve your one-hour slot, and then we'll deduct $5 from your purchase total. Shopping slots are available on the hour and the half hour. Limited to 4 shoppers per slot so that there will never be more than 10 people in the SEFAA Center at any one time.
Shopping: You'll have 45 minutes to shop and 15 minutes to check out. Cash, checks, and credit cards will all be accepted. If you arrive early, please remain in your car until your designated time slot. If you don't reserve your shopping time, you will be admitted to the SEFAA Center when doing so will not exceed our current (pandemic) maximum occupancy.