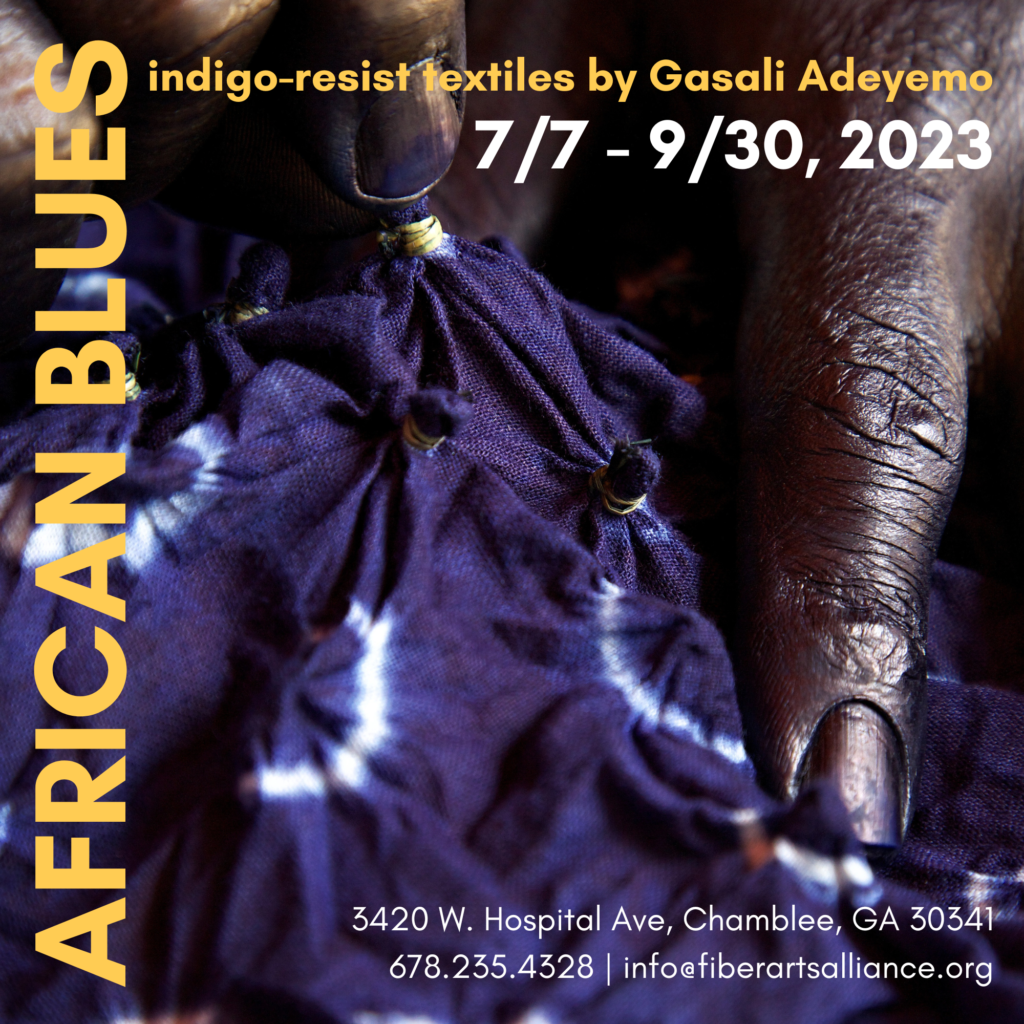 On exhibit from July 7 through September 30, 2023
T 10-2, W-Sat 10-4, and by appointment
Also, starting July 23rd, a selection of Gasali's textiles will be available for sale.
at the
Southeast Fiber Arts Alliance
3420 W. Hospital Ave., Chamblee, GA 30341
678.235.4328 | info@fiberartsalliance.org
African Blues is an exhibition of indigo-resist textiles meticulously crafted by Nigerian textile artist, Gasali Adeyemo. Gasali says, "Indigo is the color of love," because in Yoruba culture it is worn for celebrations, like weddings and naming ceremonies, and for burials as a reminder of how much the deceased is going to be missed. In Gasali's hands, though, indigo is also art. He has mastered traditional Yoruba resist techniques, including tie-dye (Adire Oniko), paste resist (Adire Eleko), and stitch resist (Adire Alabere), and his work is based on Yoruba designs that have traditional meanings and stories behind them. He also dyes almost exclusively with indigo, a natural blue dye that has a long history in Yoruba culture. If you've seen "The Woman King" and Viola Davis and her warriors wearing batik skirts and wraps, you've seen Gasali's work. It's amazing on the big screen but even better in person, so don't miss this opportunity to revel in Gasali's amazing African Blue textiles!
Born in a small village in Nigeria, Gasali Adeyemo realized his artistic potential at a young age. He trained for six years at the Nike Center for Arts and Culture with a focus on the fiber arts (batik, indigo, quilt making, embroidery, and applique). Then, he began conducting workshops to help people from around the world understand the arts and culture of the Yoruba people. Now a world-renowned artist, he has been teaching and exhibiting in the US since 1996.
(Note: SEFAA is following the CDC COVID-19 Community Level guidelines for DeKalb County, Georgia, and masks are only required in the SEFAA Center when Covid-19 Community Levels are High.)