At Play in the Garden of Stitch
Jan 15, 2022 9:00AM—Jan 17, 2022 4:00PM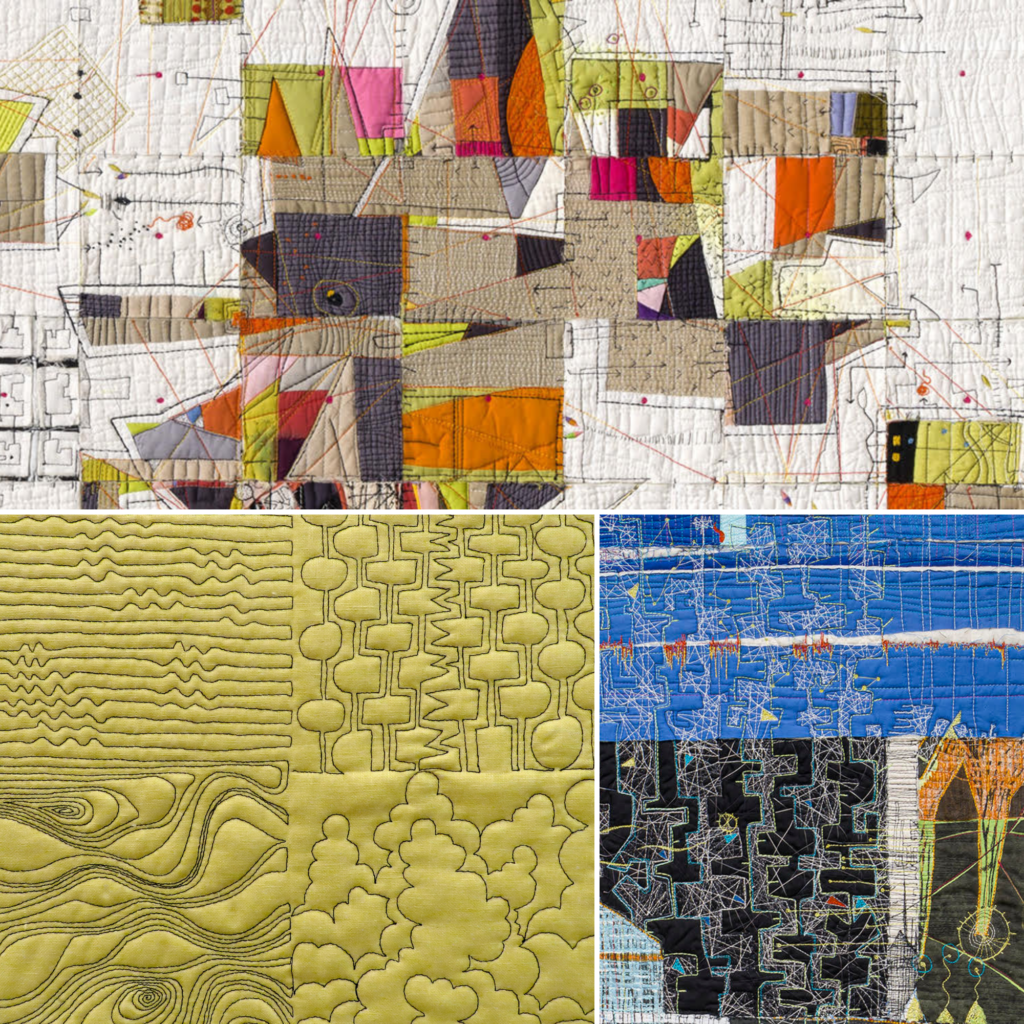 Loosen up and explore new territory with line and stitch in this workshop devoted to free-motion stitching, collage, and composition. You'll learn to focus on the character of line and personal symbols through simple drawing, composition, and stitching exercises. And you'll learn to think in thread – translating visual stimuli into pathways by stitching in continuous line. You'll leave with a toolbox of techniques for seeing and interpreting concepts, an expanded stitch vocabulary, and the confidence to let thread tell your story.
Paula Kovarik is an internationally recognized quilt artist specializing in free-motion stitching. She has been profiled in American Craft, Fiber Art Now, and Art Quilting Studio magazines and has just published her first book, At Play in the Garden of Stitch. For over 25 years she was the creative director and owner of Shades of Gray, Inc., a graphic design studio. Now she makes art – layering, ripping, cutting, sewing, and sandwiching compositions held together by fabric and thread. It is a slow art, textural and multi-layered, that births a product born of big ideas, intimate details, and hours of application. Paula lives and works in Memphis, Tennessee, a Northerner enjoying a Southern life.
$300 – $360
Additional Pricing Information: This workshop is being sponsored by Sandy Teepen of SandiesLabels. Thanks to her generosity, the price you are paying is $60 less than it would have been otherwise!
Level: Open to all skill levels. Free-motion stitching experience is a plus.
Number of Students: 8 – 15
Required Supplies:
Sewing machine with the ability to do free-motion stitching. Double-check that you have a free-motion foot that works.
Sewing machine needles: 90/14 or 100/16 needles. You can also try topstitch needles.
Fabric:

One yard of black Kona cotton fabric
One yard each of three solid color fabrics (your favorite colors, preferably Kona cotton)
Three yards of backing fabric, any kind as long as it is cotton

Batting: At least three yards of 45″ batting. (If you haven't quilted before, bring one crib-size batt in cotton. If you are a quilter bring some extra scraps to play with.)
Quilting Threads:
Notions:

Chalk marker.
Scissors.
Rotary cutter and mat.

Office supplies:

Journal, notepad, or diary to keep notes.
One black fine-tip dry erase marker.
Two Pilot Precise V5 pens in black.
Digital camera, tablet, or smartphone to capture images.

Other:

Your ideas and patience!
Optional: A quilt you are willing to cut up. Reusing quilts as raw materials can be liberating and challenging. We will be cutting up some of the stitch samples we create in class. But you can bring something of your own to play with, too.
Class Schedule: Class will be in-person at the SEFAA Center from 9 am to 4 pm on January 15th and 17th and from 10.30 am to 5.30 pm on January 16th. There will be a 1-hr break for lunch each day.
Covid 19 Policy: Mask wearing is mandatory in the SEFAA Center regardless of vaccination status.