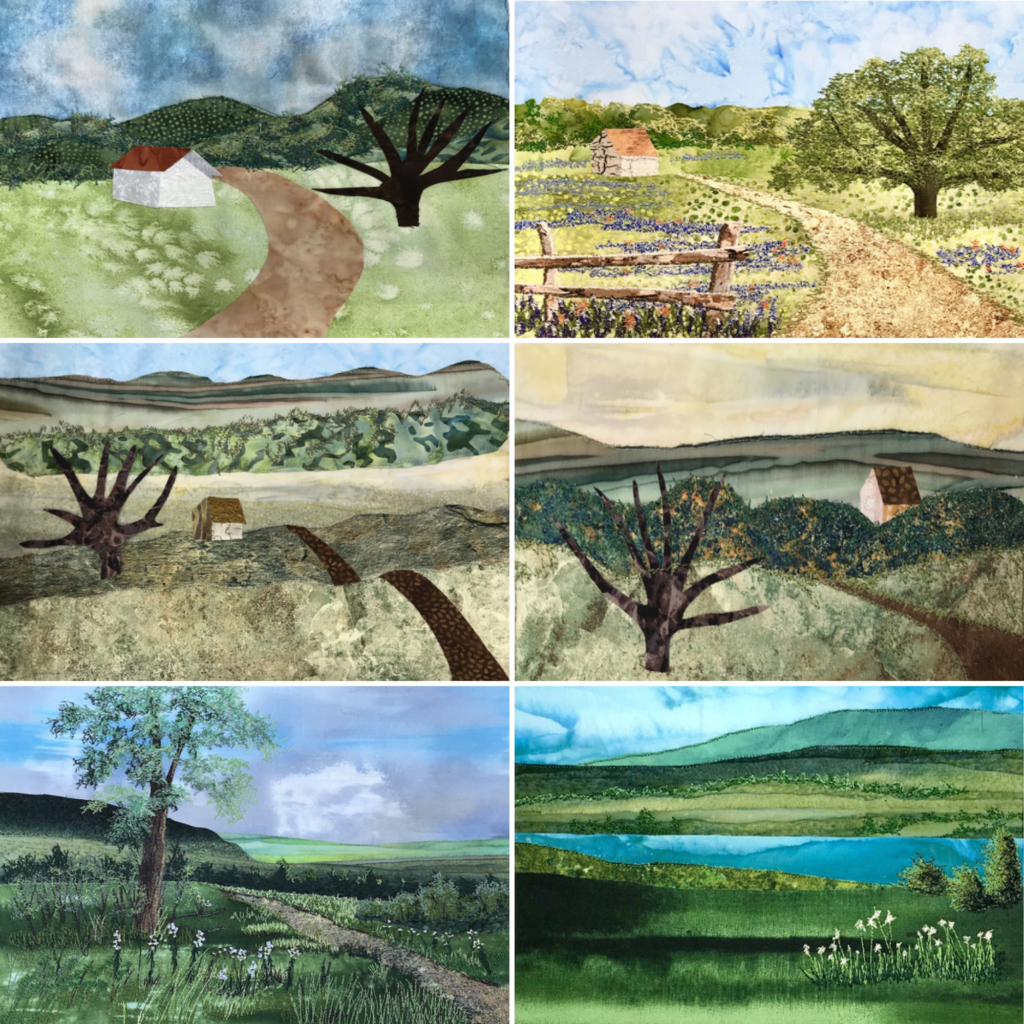 It's easier than you think to sew beautiful, realistic fabric landscapes! In this class, you'll work with a kit of pre-curated fabrics, selecting how they are arranged and the design of your landscape. You'll learn how to use color and perspective correctly, how to add stitched elements like trees, grasses, and flowers, and how to select appropriate fabrics for future projects. You'll leave with a landscape suitable for framing and the skills you need to make another landscape (or two or ten!) on your own.
Instructor: Bonnie Langenfeld's dream was to become a painter, but she couldn't manipulate that media to create realistic images. So, she started down a different path using her sewing skills plus fabric glues, heavy stabilizers, and hand-dyed and printed fabrics, getting closer to the landscapes she wanted to create. Once she added free-motion stitching to her repertoire and invented ways to add details to her landscapes, she'd realized her dream. Now, Bonnie exhibits and teaches widely and especially loves teaching virtually since it allows her to share her techniques everywhere.
$120 – $145
Additional Supply Fee: None. A $25 kit fee (for fabrics and stabilizer) is included in your registration fee. Your kit will be mailed to you, so you must register before April 1st.
Scholarship Available: No
Level: All
Required Supplies:
General sewing supplies.
Sewing machine in good working order. You must be able to drop the feed dogs and stitch straight and zig-zag stitches using a free-motion or darning foot.
Microtex or Universal sewing machine needles, size 90/14 or 80/12.
Glue sticks for temporary basting (not the purple kind since it doesn't always disappear).
Sewing machine thread, 40- or 50-weight (not shiny or variegated) in a range of values from light to dark:

6 or more greens.
3 or more browns.
3 or more blues.
2 of the color you choose for your flowers (one light and one dark).

Small fabric scraps for a building.
Scratch paper and a pencil.
An iron and a non-stick pressing mat.
Optional:

70- or 80-weight white thread for your bobbin.
But highly recommended: An 8″ x 10″ picture mat or a large paper cut with an 8×10″ opening.
Class Schedule: Class will be online via Zoom from 9.30 am to 3.30 pm on Saturday, April 15th. There will be a one-hour break for lunch.