Beginning Silk Painting
Nov 13, 2021 1:00PM—Nov 20, 2021 4:00PM
Categories Class
Topics Surface Design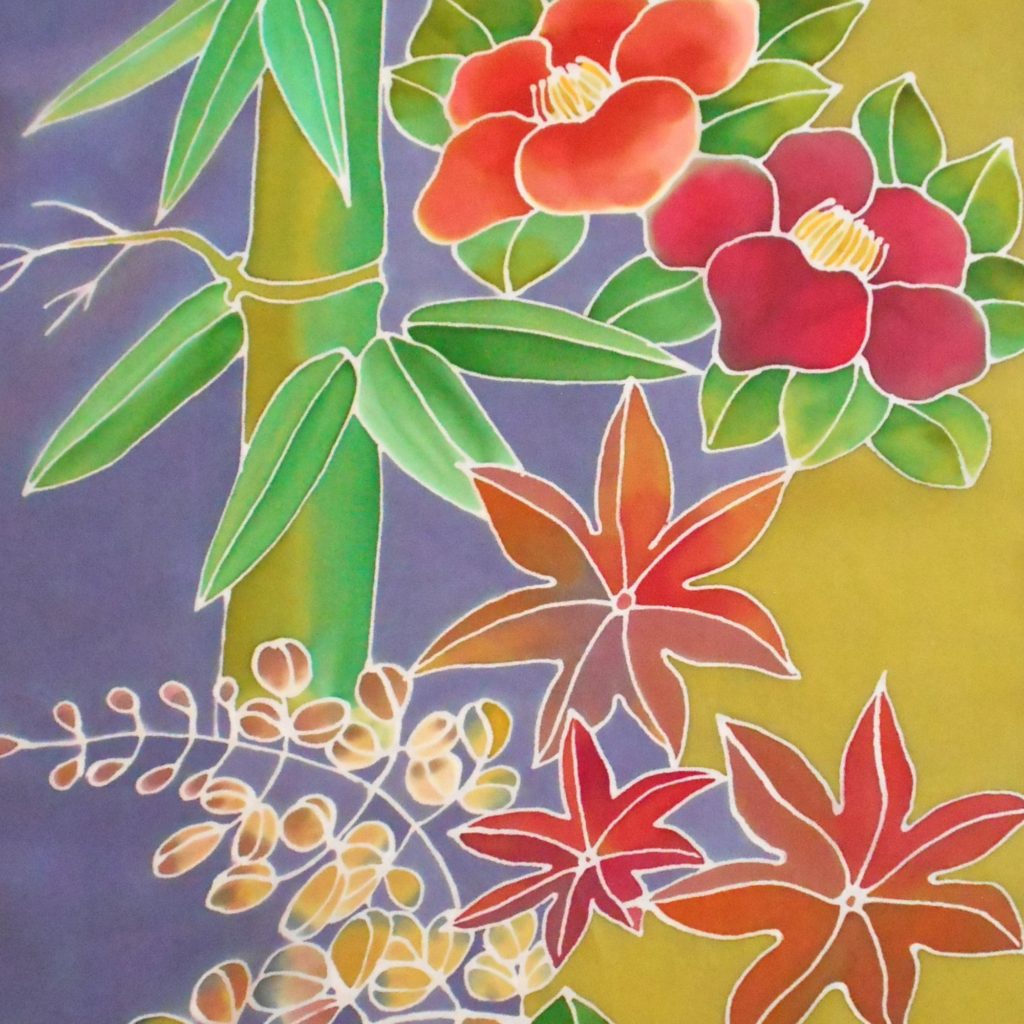 Try your hand at two different silk painting techniques in this two-session class for beginners! You'll start session 1 with an overview of silk dyes and a quick painting demonstration. Then you'll use a resist to draw or trace a design onto a small piece of silk, heat set it with an iron, and add glorious color by painting with acid dyes. During session 2, you'll experiment with a non-resist painting method, folding/pleating a small, hemmed scarf, painting on color, and then microwaving the scarf in vinegar to set the dye. Hellenne will also share samples of many different silk painting techniques and you'll have time to wash and dry your sample from session 1 (which Hellenne will steam set for you between sessions). These basics will start you on your silk painting journey, allowing you to create stunning original textiles to wear or display.
Originally a ceramics major, Hellenne Vermillion fell in love with silk painting over ten years ago and she's been creating various silk works for shows and art sales ever since. Her work has been featured three times on the cover of Silkworm magazine and has been in many silk art shows. She is also an experienced, giving, and patient instructor who teaches a wide variety of textile techniques. View Hellenne's artwork at hellenne-vermillion.com.
$95 – $115
Additional Supply Fee: None, the supply fee of $15 is included in the cost of the class and includes resist, dyes, and silk fabrics.
Scholarship Available: No
Level: Beginner – no prior experience necessary.
Number of Students: 5 – 10
Required Supplies:
Please wear painting clothes.
Optional: An apron and gloves.
Optional: You may bring your own watercolor brushes (Simply Simmons Rounds #4-8 are recommended.)
Class Schedule: Class will be in-person at the SEFAA Center from 1 to 4 pm on Saturday, November 13th, and Saturday, November 20th.
Covid 19 Policy: Mask wearing is mandatory in the SEFAA Center regardless of vaccination status.