Beginning Wool Embellishment (Sue Spargo Style)
Mar 26, 2023 10:00AM—3:30PM
Location
SEFAA Center 3420 W. Hospital Ave Chamblee, GA 30341
Categories Class
Topics Needlework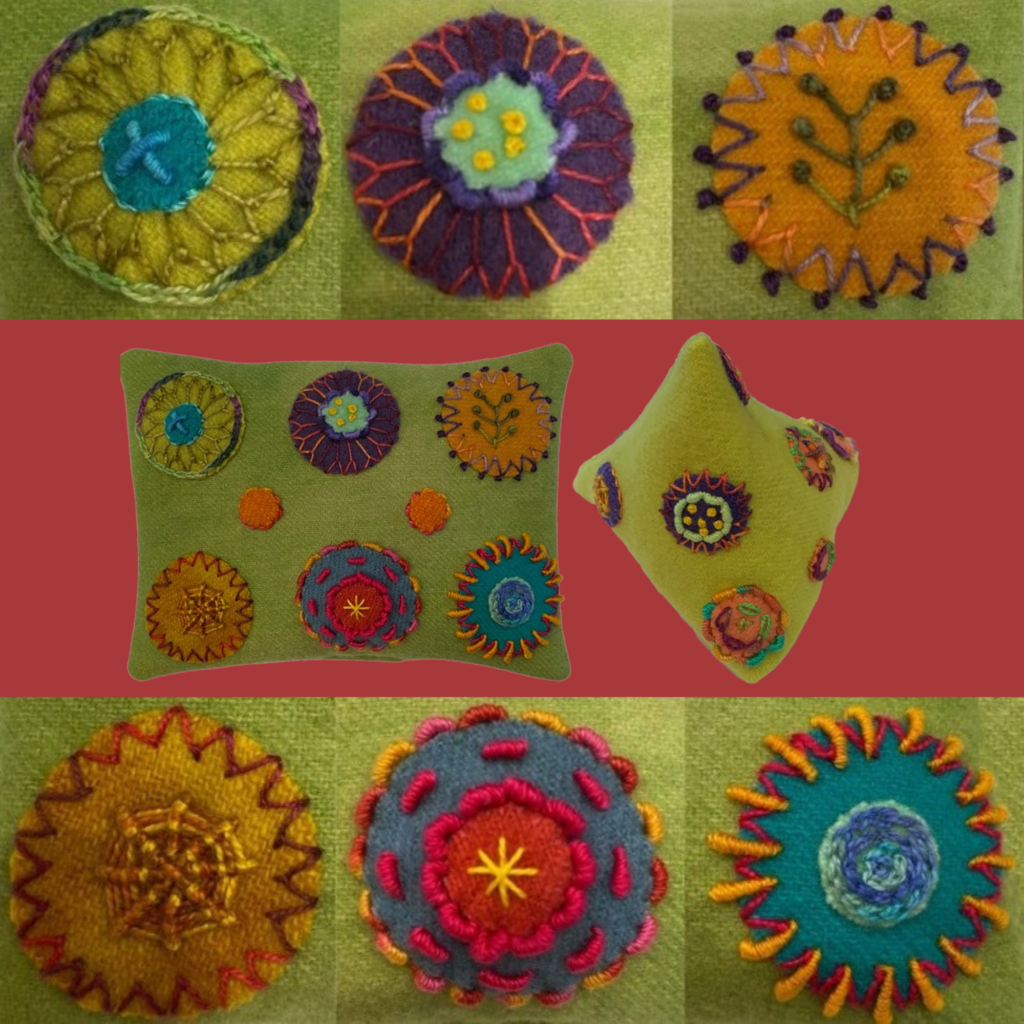 Wool embellishment is a fun way to add dimensionality and interest to your designs – modern or primitive – so give this portable and easy textile technique a try! Start by attaching wool circles to your background fabric and then lean/practice a variety of basic embellishment stitches – backstitch, bullion knot, chain stitch, fly and closed fly stitch, French knots, Italian knotted border stitch, star stitch, and whip stitch. Along the way, you'll learn about the various needles and threads that will make your projects "pop." Turn your embellished piece into a pincushion, a small pillow, or a zippered bag, or just frame it after class to enjoy your stitching for years to come. (Check out this introductory video for a taste of what you'll learn and create in this class.)​​​​​​
Instructor: Diana Quinn has been sewing and crafting for most of her life, learning to embroider as a child. She has continued to refine her skills as an adult and is an accomplished quilter and wool embellishment artist. Her wool-embellished quilts have won ribbons at local quilt shows.
$125 – $150
Additional Supply Fee: None. A $30 kit fee (for wool, thread, needles, a needle threader, and a pattern) is included in your registration fee.
Scholarship Available: No
Level: All
Required Supplies:
Small scissors
Small pin cushion
Thimble
12″ ruler
Lunch
Optional: Creative Stitching Book (optional, but recommended) by Sue Spargo, available at SueSpargo.com or Amazon.com.
Class Schedule: Class will be in-person at the SEFAA Center from 10 am to 3.30 pm on Sunday, March 26th. There will be a short, 30-minute break for lunch. There is a refrigerator and a microwave available for your use at the SEFAA Center.
Covid 19 Policy: SEFAA is following the CDC COVID-19 Community Level guidelines for DeKalb County, Georgia. Masks are required in the SEFAA Center at High Covid-19 Community Levels.