Cobweb Felt Scarf
Nov 13, 2022 12:00PM—6:00PM
Location
SEFAA Center 3420 W. Hospital Ave Chamblee, GA 30341
Categories Class
Topics felting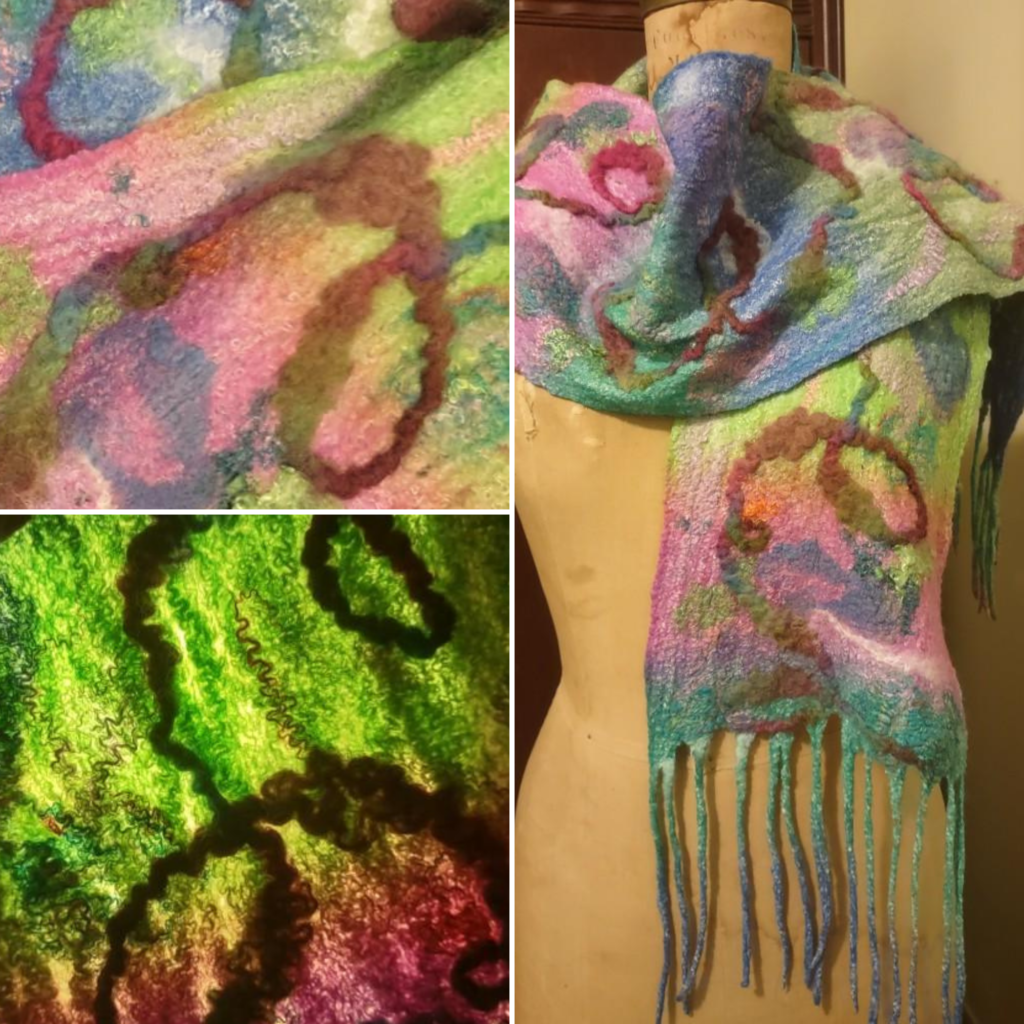 Forget everything you know about wet felting! in this class, you'll create a very delicate yet strong felt scarf using the cobweb felt method. Working with fine merino roving, you'll create a sheer, soft, lacey single-layer felted scarf (8″ x 7′ approximately)…..a perfect layering piece for fall and winter in the South. Typically, thin spots and holes are undesirable in felt, but in cobweb felting, they create beauty and interest! Embellishment fibers also add luster and eye-catching details. Embrace this very artistic wet felted experience and leave with the perfect accessory for the upcoming seasons. Please note that this felting method requires moderate hand strength, and you will be rolling your felt – but not as strenuously as for thicker felt projects.
Katrina Stone has been a fiber fanatic since childhood. She creates award-winning, nature-inspired works that incorporate the fiber techniques she loves – felting, sewing, beading, and knotting (macrame). Katrina is the current president of the Southeast Fiber Arts Alliance and makes her home in Gwinnett County with her husband and their fun-loving Boston Terriers.
$95 – $115
Additional Supply Fee: None. $15 for use of instructor's supplies – 12′ of 12″ wide bubble wrap, polyester curtain fabric, thin plastic sheeting, dowel or pipe for rolling, olive oil soap, merino roving, and various embellishment materials – is included in the cost of the class.
Scholarship Available: No
Level: All.
Number of Students: 5 -10
Required Supplies:
2-3 old bath towels.
Sponges
Wear clothing that can get wet.
Class Schedule: Class will be in person at the SEFAA Center from 12 pm to 6 pm.
Covid 19 Policy: SEFAA is following the CDC COVID-19 Community Level guidelines for DeKalb County, Georgia. Mask-wearing is required inside the SEFAA Center when our Community Level is High.