Eco Print on Paper Naturally and in Color
Jul 31, 2022 10:00AM—5:00PM
Location
SEFAA Center 3420 W. Hospital Ave Chamblee, GA 30341
Categories Class
Topics Dyeing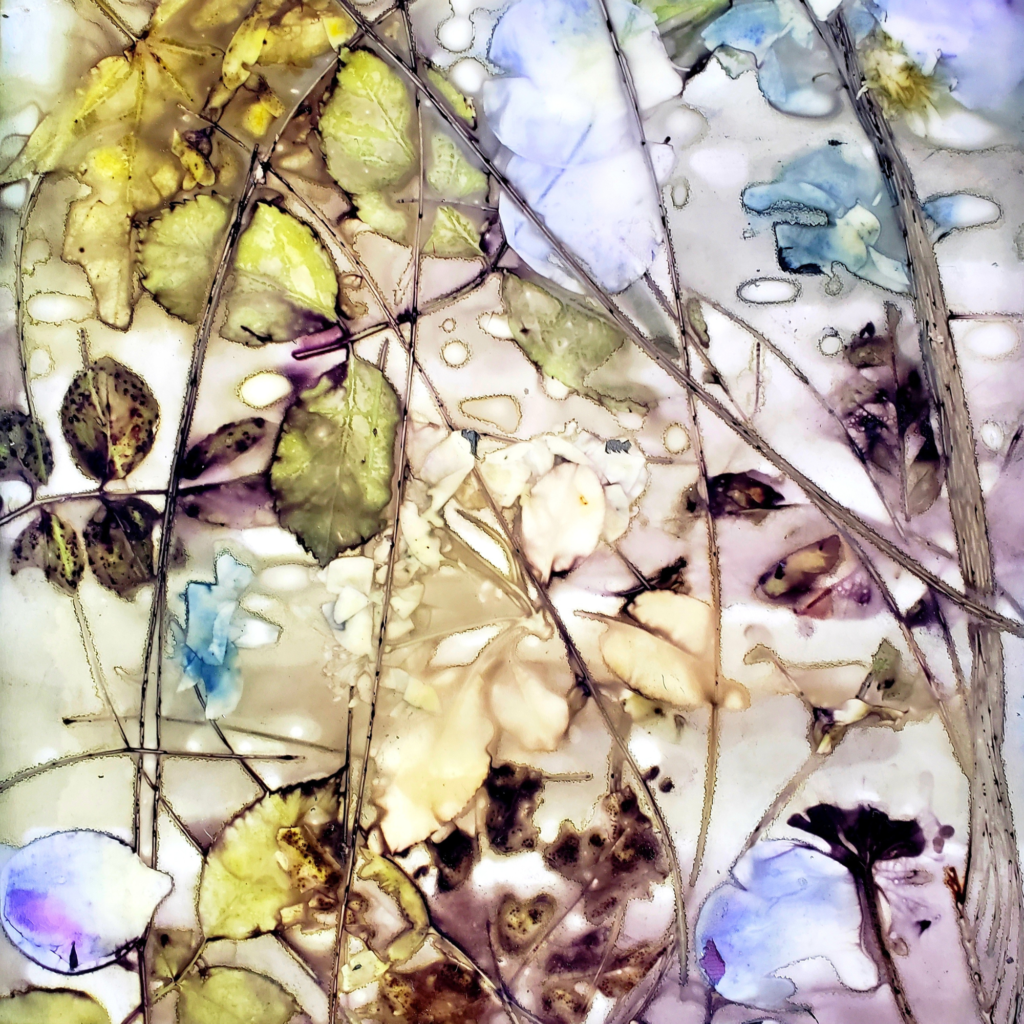 Eco printing (also known as botanical printing) is a natural dyeing technique that allows you to imprint images of leaves, plants, and flowers directly on paper. In this class, you'll learn to create your own unique, beautiful, and colorful designs with plants you bring from home and you'll learn additional techniques to add color to the background of your designs. You'll leave with 10 -12 beautiful notecards (4″ x 4″ up to 8″ x 10″) to frame or send plus the knowledge you'll need to continue using the tannins from plants to imprint beautiful designs onto a variety of papers!
M. Theresa Brown studied Commercial Art and Printmaking at East Carolina University, and it was her years of printmaking and graphic design work that led her to the fiber arts. She is now a hand painter, felter, and eco printer who creates unique, beautiful designs on silk, wool, paper, and leather and then transforms those designs into artisanal clothing, accessories, and art. Theresa is widely published, has a line of instructional PDFs on eco printing techniques, and has taught for many fiber art shows. She and her artist husband reside in rural North Carolina with their alpacas, chickens, and family dogs!
$150 – $180
Additional Supply Fee: None! $25 for mordants, use of dyes and dye blankets, assorted papers in various sizes, instructions, and use of instructor's equipment is included in the cost of the class.
Scholarship Available: No
Level: Open to all skill levels.
Number of Students: 7 to 12
Required Supplies:
Leaves from your surroundings with an emphasis on high tannin leaves such as oak, maples, rose, hickory, sumac, and interesting weeds. Fun additional plants (usually store-bought) are eucalyptus and colorful flowers such as carnations and Gerber daisies. Please, no thick plants!
Optional: Small pieces of thin rusted metals such as screen.
Class Schedule: Class will be in-person at the SEFAA Center from 10 am to 5 pm on July 31, 2022. There will be a 1-hr break for lunch. If you chose to bring your lunch, there is a small refrigerator and a microwave available for your use at the SEFAA Center.
Covid 19 Policy: SEFAA is following the new CDC COVID-19 Community Level guidelines for DeKalb County, Georgia, and masks are required in the SEFAA Center only at High Covid-19 Community Levels.