Fiber Flea Market 2023 – Vendor Registration
Mar 24, 2023 1:00PM—May 27, 2023 11:30PM
Location
SEFAA Center 3420 W. Hospital Ave Chamblee, GA 30341
Categories Event
Topics All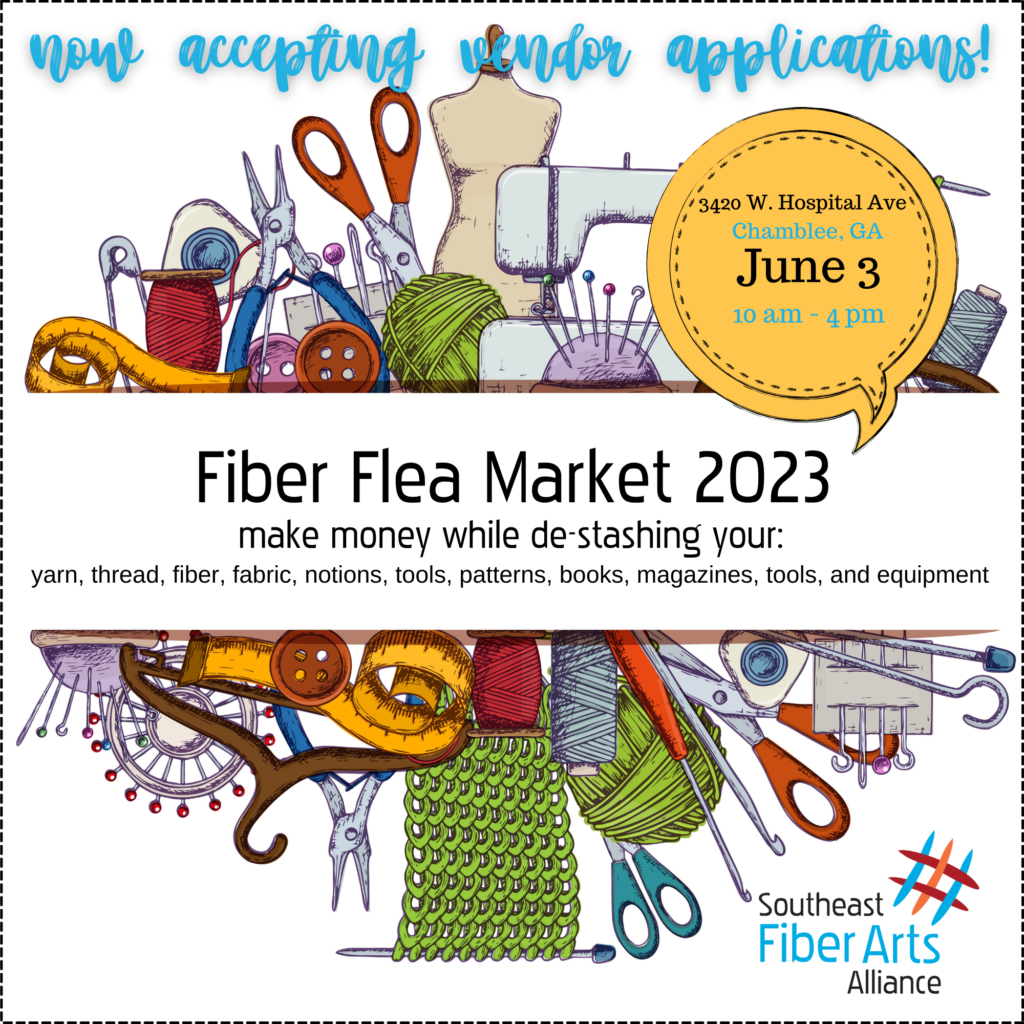 A fun and cheap way to clear out and make sure your textile goodies go to appreciative new homes. Just reserve a table, sell your stash, and keep ALL your sale proceeds!
Fiber Flea Market 2023 will be Saturday, June 3, 2023.
Tables are 6′ x 2.5′ and include up to 2 chairs.

Reservations will be accepted on a first-come, first-served basis through 11.55 pm on May 27th.
You may reserve only one table (to increase the number of vendors/diversity of items for sale).
If there are any unreserved tables when registration closes on May 27th, and you've indicated on your registration form that you'd like another table, you will be offered a second table for $15. Again, unreserved tables will be claimed on a first-come, first-served basis.
Table reservations are non-refundable.

Tables cost $15 plus a $35 deposit ($50 total) if you register before May 16th and $25 plus a $35 deposit ($60 total) if you register May 16th through May 27th.

If you register before May 16th, a $10 discount will be automatically applied just before you enter your payment details.
Your $35 deposit will be refunded by June 19th provided you don't pack up/leave before the Flea Market ends at 4 pm.

Electricity and Wi-Fi are available.
You must provide your own bags, petty cash, and method for taking credit card payments (optional).
Event hours are 10.00 am to 4.00 pm.

Setup is from 8.30 to 9.45 am.

You WILL NOT be allowed to enter the building before 8.30 am, so there is no point in arriving early.
You MUST be set up and ready to go by 9.45 am or you will lose your table and forfeit your entry fee and deposit.

Takedown is from 4.00 to 5.00 pm.

Entry is free for buyers.
There will be a raffle prize basket awarded to one customer who visits all vendor tables.
Questions? fleamarket@fiberartsalliance.org.
Note: SEFAA is following the CDC COVID-19 Community Level guidelines for DeKalb County, Georgia, and mask-wearing inside the SEFAA Center is only required at a High Community Level.