Fiber Flea Market 2023
Jun 03, 2023 10:00AM—4:00PM
Location
SEFAA Center 3420 W. Hospital Ave Chamblee, GA 30341
Cost $0.00
Categories Event
Topics All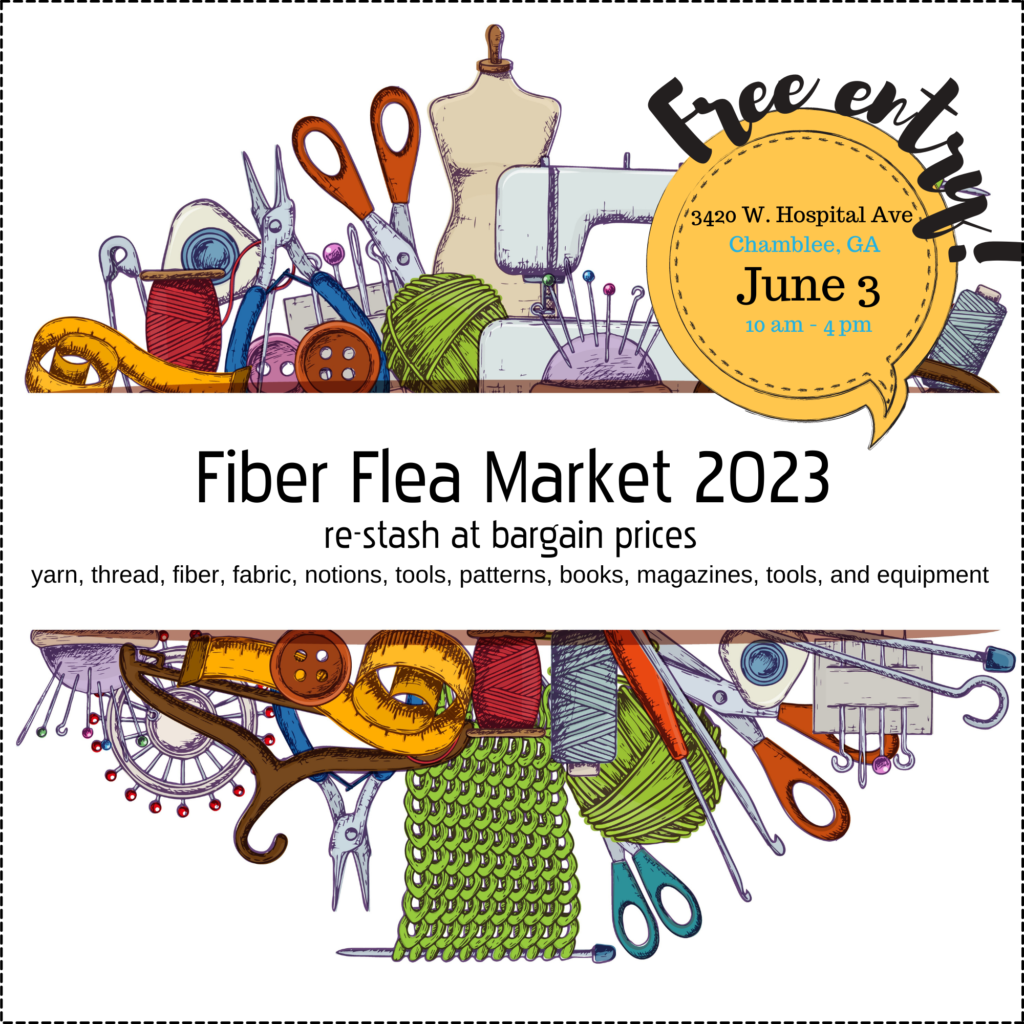 A fun and cheap way to stock up on textile supplies at amazing prices. Search for bargains on yarn, thread, fiber, fabric, notions, tools, patterns, books, magazines, tools, and equipment at this textile-only sale. Our vendors are bringing treasures, one-of-a-kind finds, and plenty of too-good-to-leave-behind/I-will-use-this-someday goodies.
Entry is absolutely free.
There will be a drawing for a prize basket at 3.30. All you have to do is visit each vendor table to enter. You do not have to be present to win.
Your help during the event or setting up the day before would be greatly appreciated. Please volunteer!
So, grab a friend, come on down, and shop till you drop from our awesome vendors!
Linda Abraham – Quilting and fashion fabrics, patterns, notions, art buttons, embroidery CDs, Embroiderer's Friend Hooping System, Embroiderer's Buddy, and EZ Preset Frame
Judy Carpenter – Weaving yarns, Ott Floor lamp, dyeing equipment and dyes
Myla Chapman – Sewing/quilting books, fabric, Japanese cotton yukata fabric, Japanese kimono and obi, sewing supplies
Gale Evans – Hand-dyed items and fabric scraps for quilting
Michelle Field – Yarn and fiber from my Gulf Coast sheep flock, upcycled knitting needle fiber arts tools and accessories, textile books, vintage buttons
Lisa Freeman – Yarn
Leah Henderson – Yarn, loom
Carol Ann Holton –
Linda Johnson – Vintage buttons, yarn and kits
Debbie Maclin – Handwoven Guatemalan Fabric
Pamela Mason – Indie-dyed yarns, Emma's Yarn, 29 Bridges Studio yarn, Pandora's yarn, Haute Knit yarn, project bags, knitting -themed Tshirts, gift items, hat tags, and more
Debra Merrill – Raw Alpaca fleece, full blankets and seconds
Kristen Nicholas – Yarn, fiber, fiber tools
Michelle O'Farrill – Knitting/crochet yarn
Reba Pearson – New, good-quality yarn
Laurel Rosenberg – Fabric, possibly a sewing machine or two
Swaantje Sass – Yarn, crochet/knit kits, crochet/knitting books, fabric
Betsy Williams – 100s of deconstructed silk ties, cowls made from silk ties, craft books, natural fiber yarn
Charlene Williams – Japanese Tenegui "towels"; sequin trims, strips of sari material, yards of fabric, 9yds lavender silk
Questions? Just email: fleamarket@fiberartsalliance.org.
Note: SEFAA is following the CDC COVID-19 Community Level guidelines for DeKalb County, Georgia, and mask-wearing inside the SEFAA Center is only required at a High Community Level.