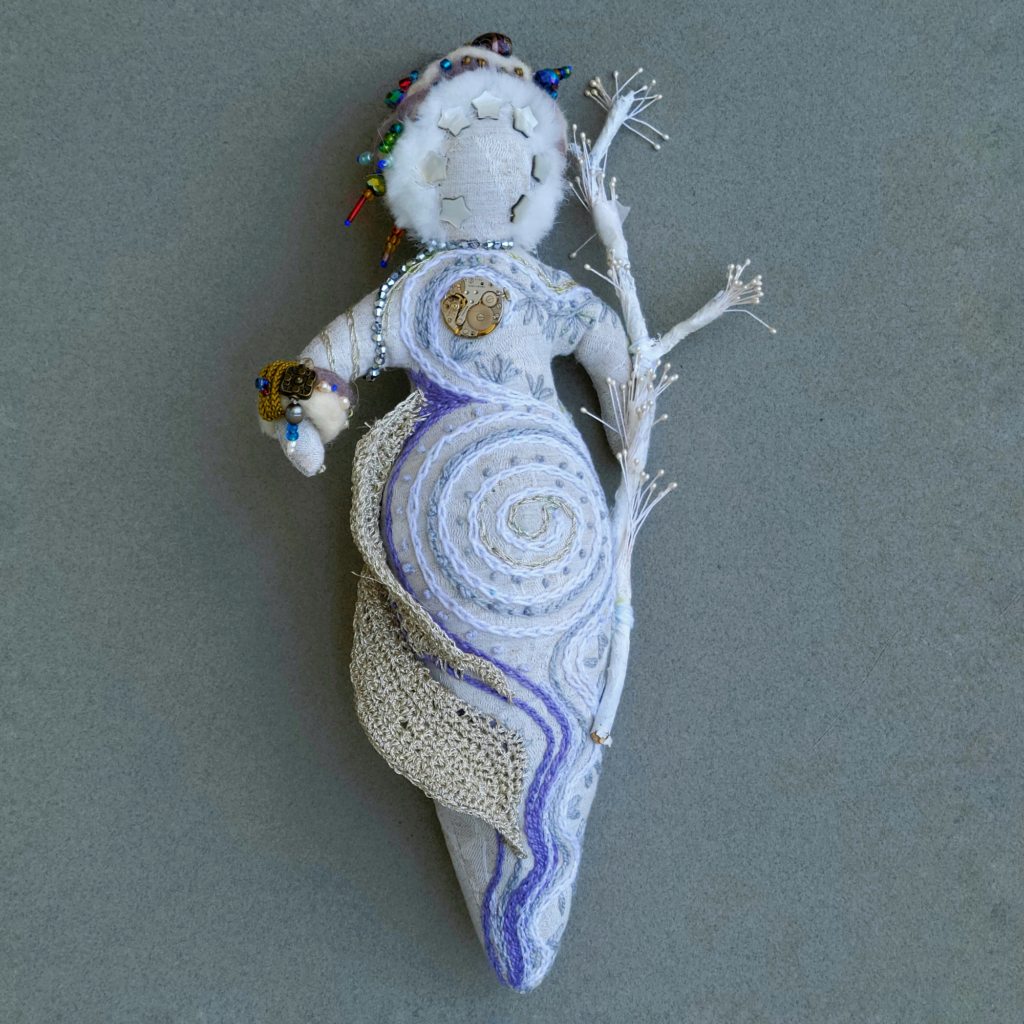 Celebrate your creativity by making a fiber Goddess Doll to nurture your spirit, grace your projects, and protect your workspace. We'll provide a sewn goddess body, so you'll be able to focus on the fun part – making your Goddess unique and special to you. Just stuff your doll body, then add stitching, beads, crystals, pearls, or … whatever sparks your creative joy.
This is a two-session class that will meet for an hour each session. Session one will be online and will cover design and headdress suggestions plus embroidery stitch practice. Session two will be a hybrid class (online or in-person at the SEFAA Center) and will focus on adding fine details using beads and other embellishments and sharing your doll with your classmates.
Hellenne Vermillion was born and raised in Japan. She is a silk dye painter. stitcher, and mask maker who also teaches prehistoric Japanese Jomon pottery.
$45 – $55
Additional Supply Fee: None
Registration Deadline: You must register by Friday, August 12th in order to have your kit sent to you in time for the first class. Otherwise, you will need to pick up your kit from the SEFAA Center (3420 W. Hospital Ave., Chamblee, GA 30341) between 10 am and 4 pm on Mondays, Wednesdays, and Fridays or between 10 am and 2 pm on Tuesdays and Thursdays.
Level: All
Number of Students: 5-15
Required Supplies:
Stuffing (wool roving, cotton batting, or chopped-up yarn but not polyester stuffing as it is too springy and difficult to embroider through.).
Chopstick or pencil with an eraser (to help with stuffing).
Hand sewing needles for embroidery and/or doll needles.
Embroidery threads.
Optional: Beads (plus bead needles and bead thread), crystals, pearls, buttons, lace, or other embellishments.
Provided Supplies:
 A kit including a sewn goddess body, embellishment patterns, and headdress ideas will be mailed to you before the first class.
Class Schedule: This class will meet from 11 am to 12 pm on Saturday, August 27th and September 3rd.
Covid 19 Policy: SEFAA is following the new CDC COVID-19 Community Level guidelines for DeKalb County, Georgia, and masks are required in the SEFAA Center only at High Covid-19 Community Levels.