Hand Printing on Cloth with Natural Dyes
Sep 18, 2021 1:00PM—Sep 19, 2021 5:00PM
Location
SEFAA Center 3420 W. Hospital Ave Chamblee, GA 30341
Categories Class
Topics Dyeing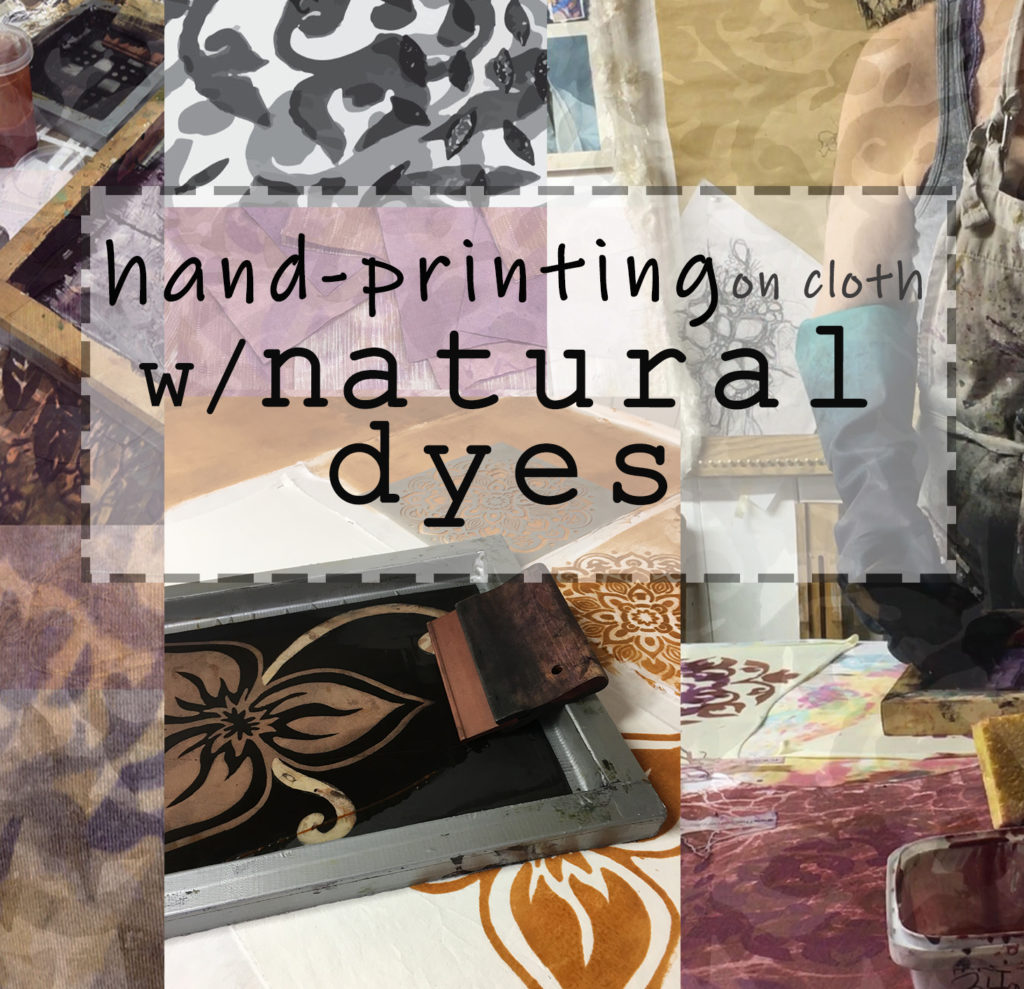 Explore the exciting possibilities of natural dye print pastes in this part demo, part hands-on class. Day 1 will include observing dye extraction and paste production followed by using pre-mixed pastes made from traditional natural dye substances to screen and/or block print, paint, and stencil on a variety of cloth samples. Day 2 will focus on processing your samples, discussing results, and reviewing each step of the process. You'll leave with a set of samples on a range of textile surfaces plus first-hand experience and information – in other words, a solid foundation for future exploration with thickened natural dyes on cloth!
Kathy Colt is an Atlanta-based textile and fiber artist. While working towards a degree in Landscape Architecture in the early 1990's, she began exploring cloth and fiber in earnest. Since that time she has continued to create with textile and fiber techniques, including nuno felting and cloth surface enrichment (most recently for her small, seasonal apparel line, Petal-una Collection). A keen student of dye-alchemy, Kathy's work with natural dyes began in 2013 and has now become an important component of her studio practice. Kathy has taught workshops and presented on a variety of topics including nuno felting, surface design on cloth, indigo dyeing, sustainable studio practice, and "slow" textiles. Her website is kathycolt.com and you'll find her on Instagram at @kathycoltartisan.
$120 – $145
Additional Supply Fee: None, the supply fee of $20 is included in the cost of the class and includes pre-mixed dye pastes, use of mark-making tools (brushes, silkscreens, squeegees, sponges, and stencils), auxiliary chemicals, 10 to 12 pieces of various fabrics (12″-18″ square), a small amount of yarn, and basic instructions.
Scholarship Available: No
Level: Beginner and beyond
Number of Students: 5 – 10
Required Supplies:
a snack
gloves
apron
Optional: You may wish to bring additional cloth, yarn, or fiber to experiment with and/or your favorite mark-making tools.
Class Schedule: Class will be in-person at the SEFAA Center from 1 to 5 pm on Saturday, September 18th, and Sunday, September 19th.