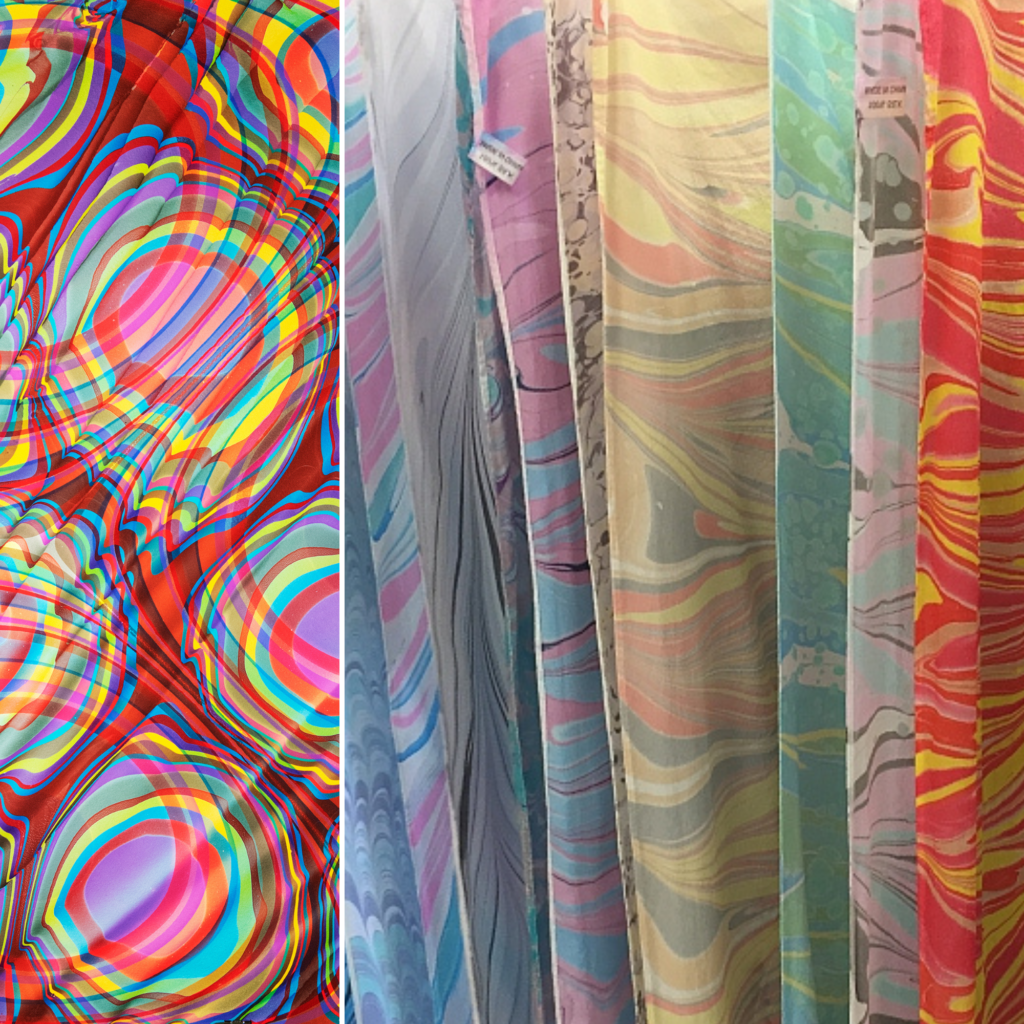 Marbling is a fun way to create fabulous contemporary patterns on paper and fabric! This class will introduce you to the art of floating pigment on thickened water, manipulating the pigment in a variety of ways, and then carefully transferring/printing the resulting pattern to absorbent surfaces such as paper and fabric. You'll learn about the materials needed for marbling and various marbling techniques and you'll also be introduced to the art, the history, and the science of marbling. This is your chance to experiment with color, pattern, and design with a forgiving technique that produces truly magical results.
Anne Murray's passion for books started when she came across The Penland Book of Handmade Books at the public library in 2006. That encounter started her quest to learn and practice the crafts involved in making books – binding, making paper, marbling, creating book cloth, and woodworking – at the John Campbell Folk School, Penland School of Crafts, the Sawtooth School for Visual Art, and with several well-known paper/book artists. Now, after years of developing and expanding her skills, Anne is a full-time artist specializing in bookbinding, papermaking, and marbling. She is at heart a teacher, finding pleasure in sharing her passion for paper and book arts.
$260 – $315
Additional Supply Fee: None. The $20/student fee for carrageenan, acrylic paints, alum, paper, fabric, tanks, and tools is included in the cost of the class.
Scholarship Available: One available once seven students have registered. Please email for more information.
Level: Beginner – no prior experience necessary.
Minimum Number of Students: 6 by October 28, 2023
Maximum Number of Students: 10
Required Supplies: None!
Class Schedule: Class will be in-person at the SEFAA Center from 9.00 am to 4.00 pm on Saturday, November 11th, and Sunday, November 12th.
Covid 19 Policy: SEFAA is following the CDC COVID-19 Community Level guidelines for DeKalb County, Georgia, and masks are only required in the SEFAA Center only at High Covid-19 Community Levels.