Knitting with Light!
Apr 22, 2023 1:00PM—4:00PM
Location
SEFAA Center 3420 W. Hospital Ave. Chamblee, GA 30341
Categories Class
Topics Knitting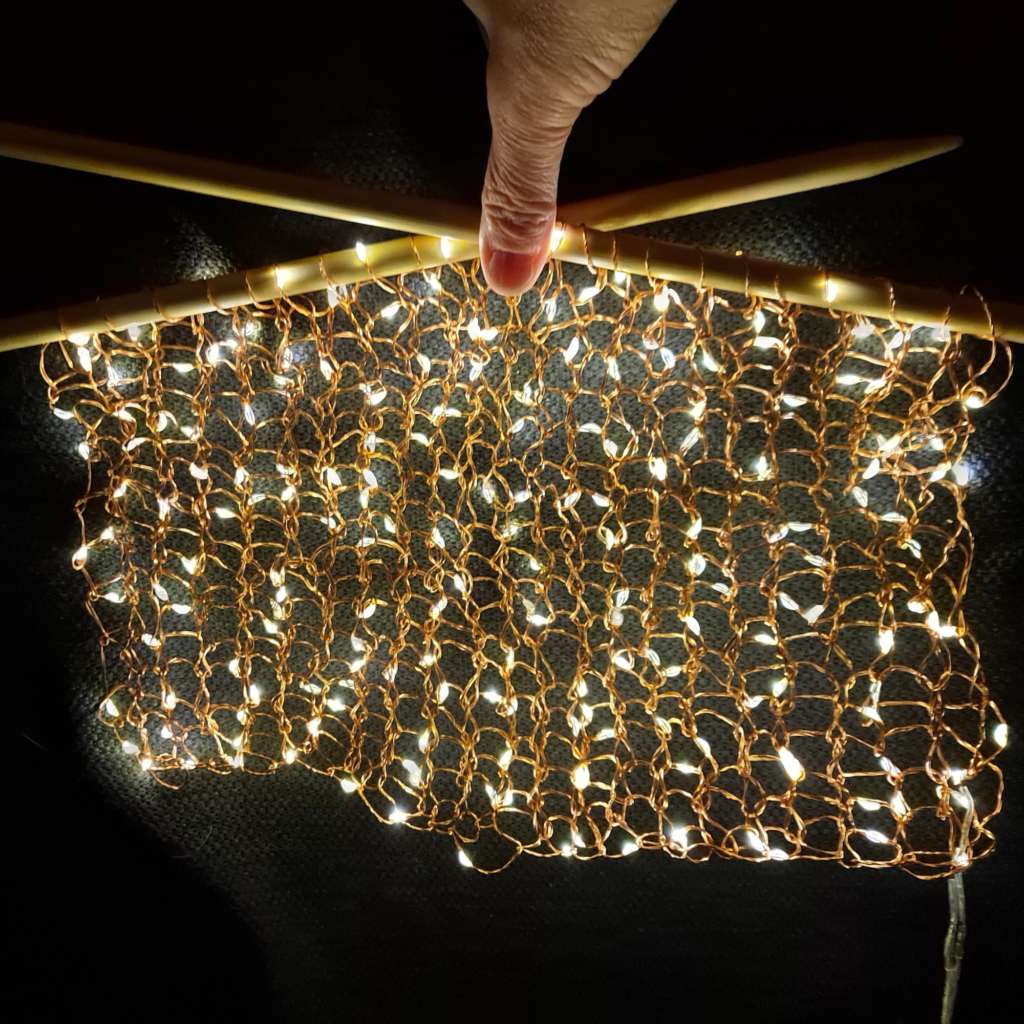 Learn to knit with twinkly fairy lights and leave with a magical wall hanging! Knitting with wire requires some stitch adjustments and a little patience, but you'll be off on a new light-filled adventure in no time. Think night lights, ornaments, 3D sculptures, hem/neckline trim, head/hat bands … you can add a bit of warm, comforting sparkle to just about anything. So, grab your friends and come knit light with us!
Michelle Field comes from a long line of Appalachian fiber artists. She was taught to do needlework before she could read and, over 40 years later, there are few fiber arts she hasn't become obsessed with at one time or another. She worked her way through college as a shepherd and has now returned to shepherding full-time, raising a flock of endangered heritage sheep (Gulf Coast Native and Shetland) on her small family hill farm. Michelle's fiber arts specialty is sheep-to-garment creation, including spinning, dyeing, knitting, and machine knitting. She's also a former Anthropology professor who used to chase monkeys through jungles around the world, which means she's very good at teaching a wide variety of subjects and is remarkably hard to kill!
$75 – $85
Additional Supply Fee: None, the supply fee of $30 is included in the cost of the class and includes twinkle lights with remote, a USB wall plug, a wall hook, and bamboo knitting needles.
Scholarship Available: No
Level: Basic knitting knowledge is required, including how to cast on and how to create knit and purl stitches.
Number of Students: 4 – 10
Class Schedule: Class will be in-person at the SEFAA Center from 1 pm to 4 pm on Saturday, April 22, 2023.
Covid 19 Policy: SEFAA is following the CDC COVID-19 Community Level guidelines for DeKalb County, Georgia. Mask-wearing is only required inside the SEFAA Center when our Community Level is High.