Let's Tie One On!
Mar 29, 2022 10:00AM—Apr 28, 2022 2:00PM
Location
SEFAA Center 3420 W. Hospital Ave Chamblee, GA 30341
Cost 0.0
Categories Exhibition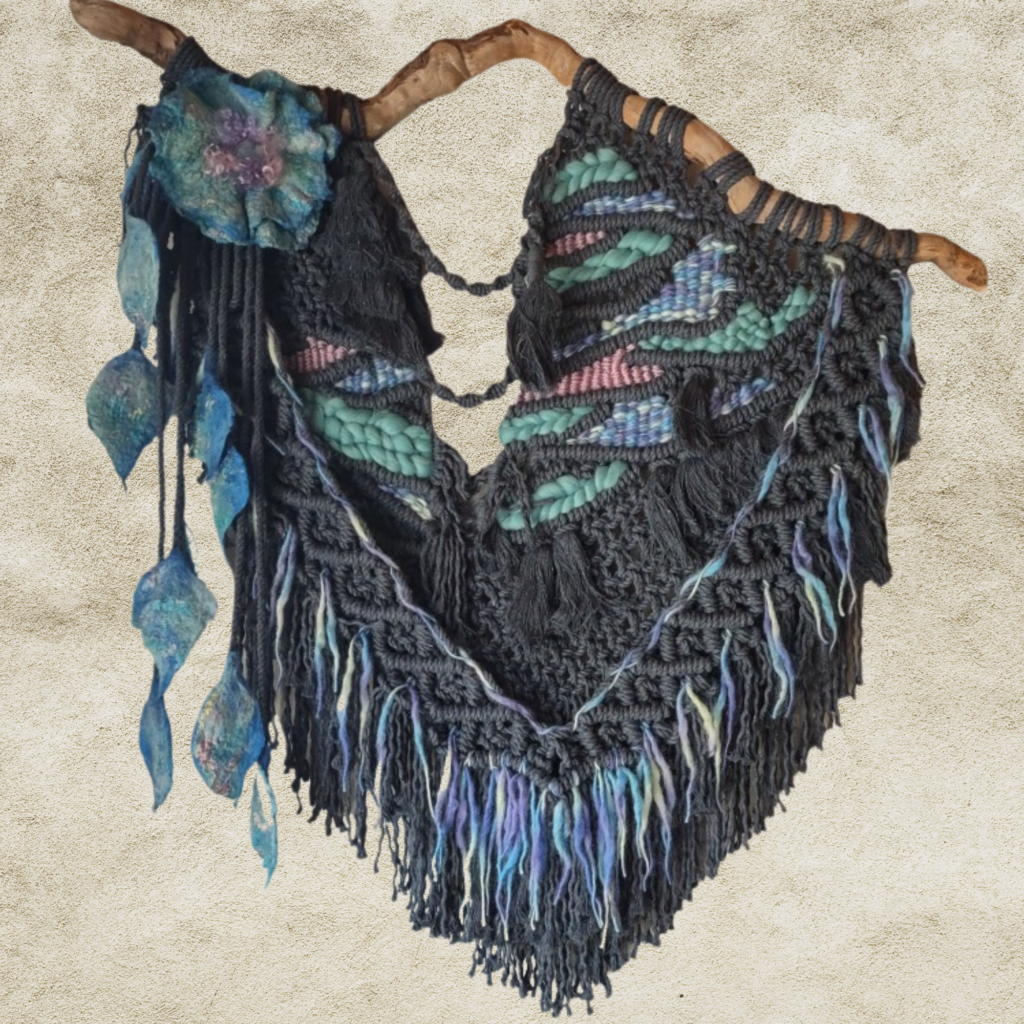 Knotting (macrame) has been around since humans have been creating rope or strands twisted or braided together to be stronger and thicker than string or twine.
Knotting is functional. Sailors have tied knots to stay safe at sea. Boy Scouts and Girl Scouts learn basic knots early in their time as scouts. All of us learned to tie our shoes.
Knotting is decorative. Delicate cords were used to create knotted fringe in ancient times. Sailors tied knots in beautiful patterns to cover knife handles and bottles while at sea. And, in the Victorian era, macrame adorned tablecloths, bedspreads, and curtains. Knotting then faded in popularity until the 1970s. It is currently enjoying another resurgence.
Katrina's knotting cord is almost exclusively recycled cotton fibers from the post-production textile industry, and she adds interest to her knotting by incorporating wool, silk, novelty fibers, and even things she has collected in the woods. Thinking about basic design principles – rhythm, color, repetition, and movement – helps her create pleasing works of art.
Let's Tie One On is open Tuesdays and Thursdays from 10 am to 2 pm or by appointment. Most of the works in the exhibition are for sale, and 30% of any sale proceeds will be donated to SEFAA. Commissions are also welcome! Just email info@fiberrartsalliance.org to start a conversation.
Note: SEFAA is following the new CDC COVID-19 Community Level guidelines for DeKalb County, Georgia. As of 3/28/2022, our Community Level is low, and mask-wearing inside the SEFAA Center is optional.
Katrina Stone has been a fiber fanatic since childhood. She creates award-winning, nature-inspired works that incorporate the fiber techniques she loves – felting, sewing, beading, and knotting (macrame). Katrina is the current president of the Southeast Fiber Arts Alliance. Recently retired she makes her home in Gwinnett County with her husband and their fun-loving Boston Terriers. She has recently welcomed her first grandchild into the world. Life is exciting!