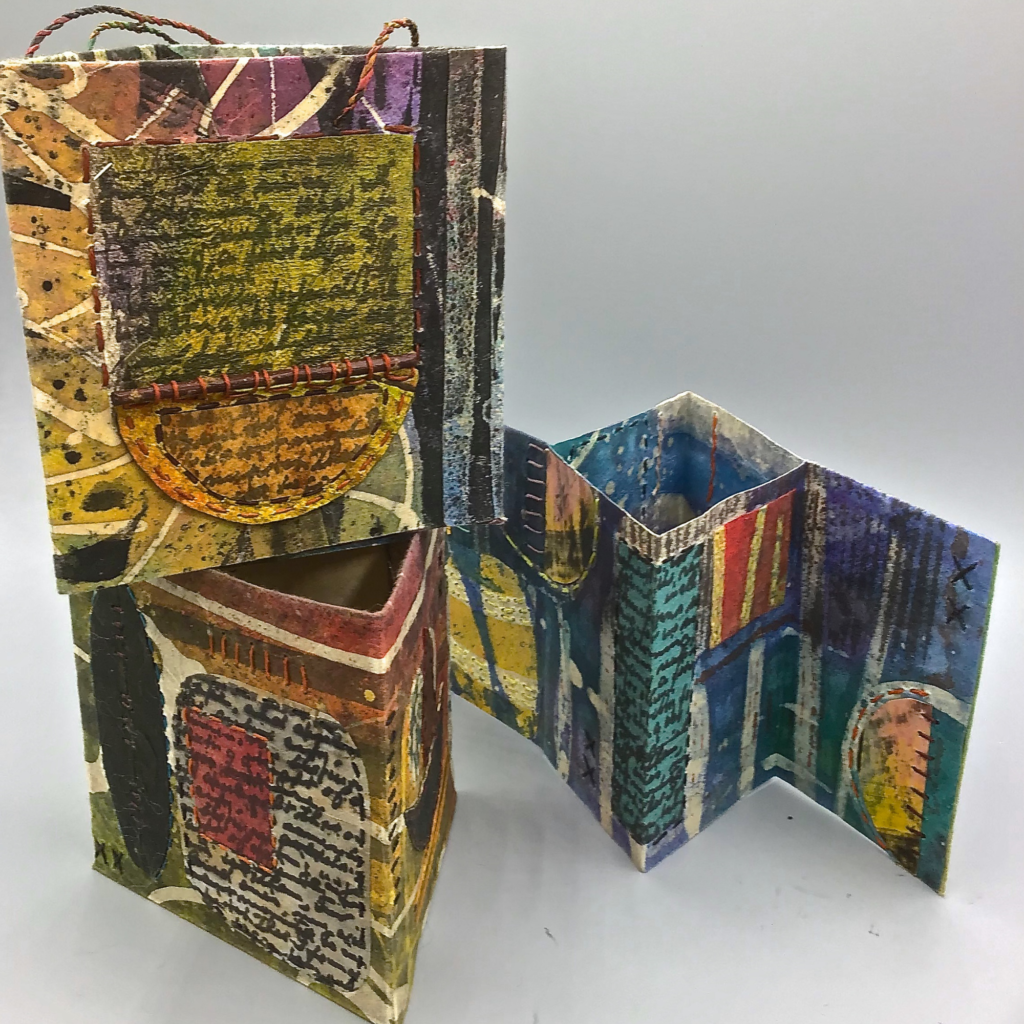 Start with an assortment of papers including the instructor's handmade paper and then use pigmented pastes, wax resist, photocopying, and other techniques to create unique decorative papers. Then, use your papers as a foundation for collage and stitching and complete your choice of a Japanese triangle bag, wall art, or artist book.
Claudia Lee is a studio artist, designer, consultant, author, and instructor working in handmade paper. Her work has been published in more than thirty books, magazines, and journals and can be found in private and corporate collections, including the Tennessee Arts Commission Collection, the Arrowmont School of Craft Collection, the Southern Highland Guild Collection, The Wilson Collection of the Nashville Public Library, and the James Walker Library Special Collections at Middle Tennessee University. Her studio, Liberty Paper, is a working and teaching facility located in middle Tennessee on the site of an old farm surrounded by woods and mountains.
$250 – $300
Additional Supply Fee: The supply fee of $65 for handmade paper, wax, and other supplies is payable to the instructor on the first day of class (cash, check, or credit card).
Scholarship Available: No
Level: Beginner – no prior experience necessary.
Number of Students: 6 – 12
Required Supplies:
Apron
Rubber gloves
Notebook
Ruler
Pencil
X-acto knife and extra blades
Self-healing rotary cutting mat
Bone folder
Small awl
Scissors
Paper glue (Aleens Tacky Glue or similar)
Glue brushes (different sizes of natural bristle brushes are useful)
Glass jar with lid
Hand towel or washcloth
Wax paper
Sewing needles suitable for use with 4-ply waxed lined (Dritz Crewel needles or similar)
Optional: Any papers you have that you'd like to work with.
Class Schedule: Class will be in-person at the SEFAA Center from 9.30 am to 4.30 pm on Saturday, April 9th and from 10.30 to 5.30 pm on Sunday, April 10th.
Covid 19 Policy: SEFAA is following the new CDC COVID-19 Community Level guidelines for DeKalb County, Georgia. As of 4/7/2022, our Community Level is medium, and mask-wearing inside the SEFAA Center is optional.