Needle Felt a Gnome with Character!
Aug 12, 2022 10:00AM—Aug 13, 2022 4:00PM
Location
SEFAA Center 3420 W. Hospital Ave Chamblee, GA 30341
Categories Class
Topics felting, Needle Felting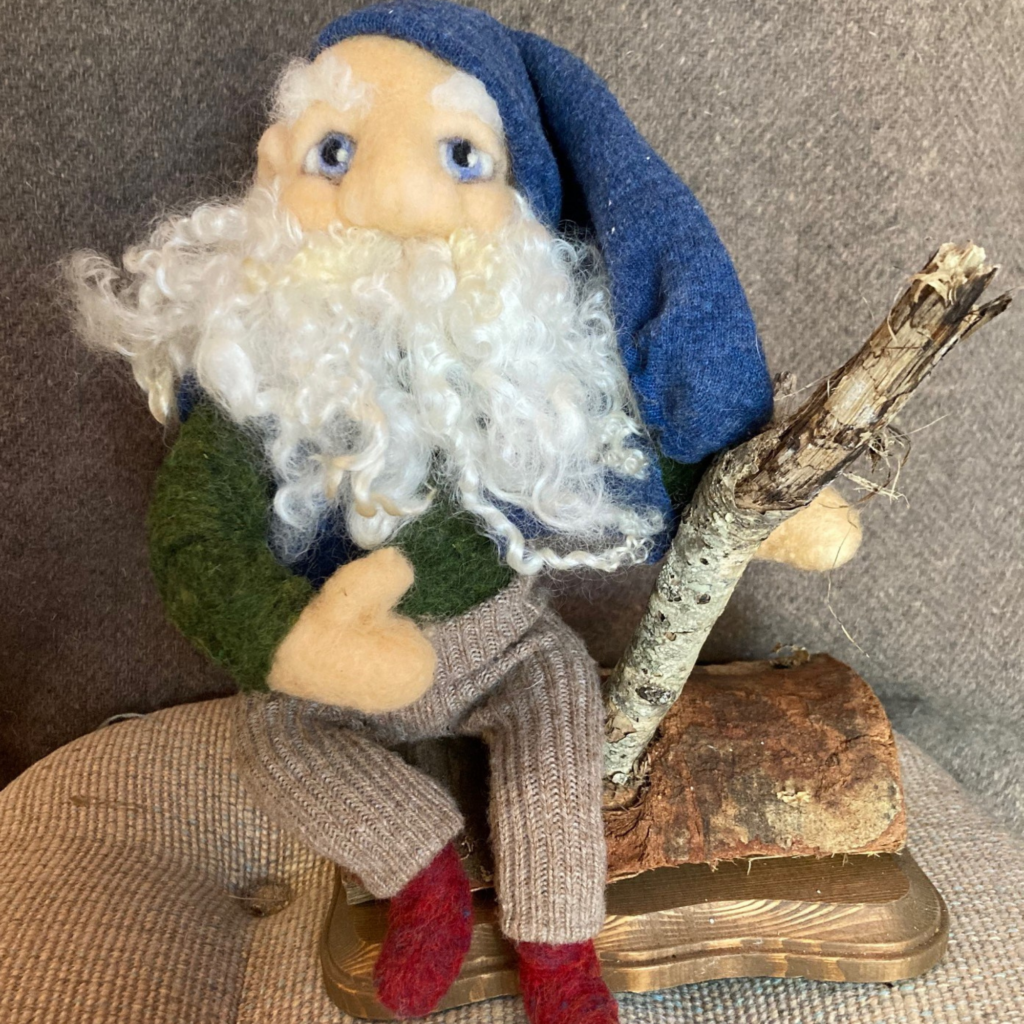 In this workshop, you will needle felt a gnome – cute (or not so cute!), full of character, and poseable! You'll start by constructing a basic wire armature and creating your gnome's body. Then, you'll add his/her head, complete with a nose (what is a gnome without a large nose!), and work on creating your gnome's unique character. Gnome clothing will also be discussed and can be started in class if time permits or completed at home. This fun two-day class will build your 3-D needle felting skills, and you'll leave with a new gnome friend to brighten your day or to give as a gift!
Irene Heckel has created collectible soft sculpture fiber art since 1986. She created mohair teddy bears for over 30 years until 2002 when she fell in love with needle felting from the first "poke". Self-taught, most of her work is mixed media, embracing the best of each textile technique. Her work has been exhibited and won awards locally, nationally, and internationally, and she has taught classes all over the country. Originally from Long Island, NY, Irene relocated to the Asheville area in 2014, with her husband, Clyde, and her "fur-family", one cat and 4 dogs who all keep her in creative mode.
$200 – $240
Additional Supply Fee: $20 for fiber to complete the project, curly locks for hair/beard, wire to build the armature, two felting needles, a skewer, and a small foam work pad.
Scholarship Available: No
Level: Advanced beginner and beyond.
Number of Students: 6 to 10
Required Supplies:
Needle-nosed pliers.
Sewing kit (scissors, sewing needle, strong thread – preferably button and carpet thread).
Fabric scraps for costume ideas or draping.
A sense of humor and adventure!
Class Schedule: Class will be in-person at the SEFAA Center from 10 am to 4 pm on August 12 and 13, 2022. There will be a 1-hr break for lunch. There is a small refrigerator and a microwave available for your use at the SEFAA Center if you choose to bring your lunch.
Covid 19 Policy: SEFAA is following the new CDC COVID-19 Community Level guidelines for DeKalb County, Georgia. As of 4/27/2022, our Community Level is low, and mask-wearing inside the SEFAA Center is optional.