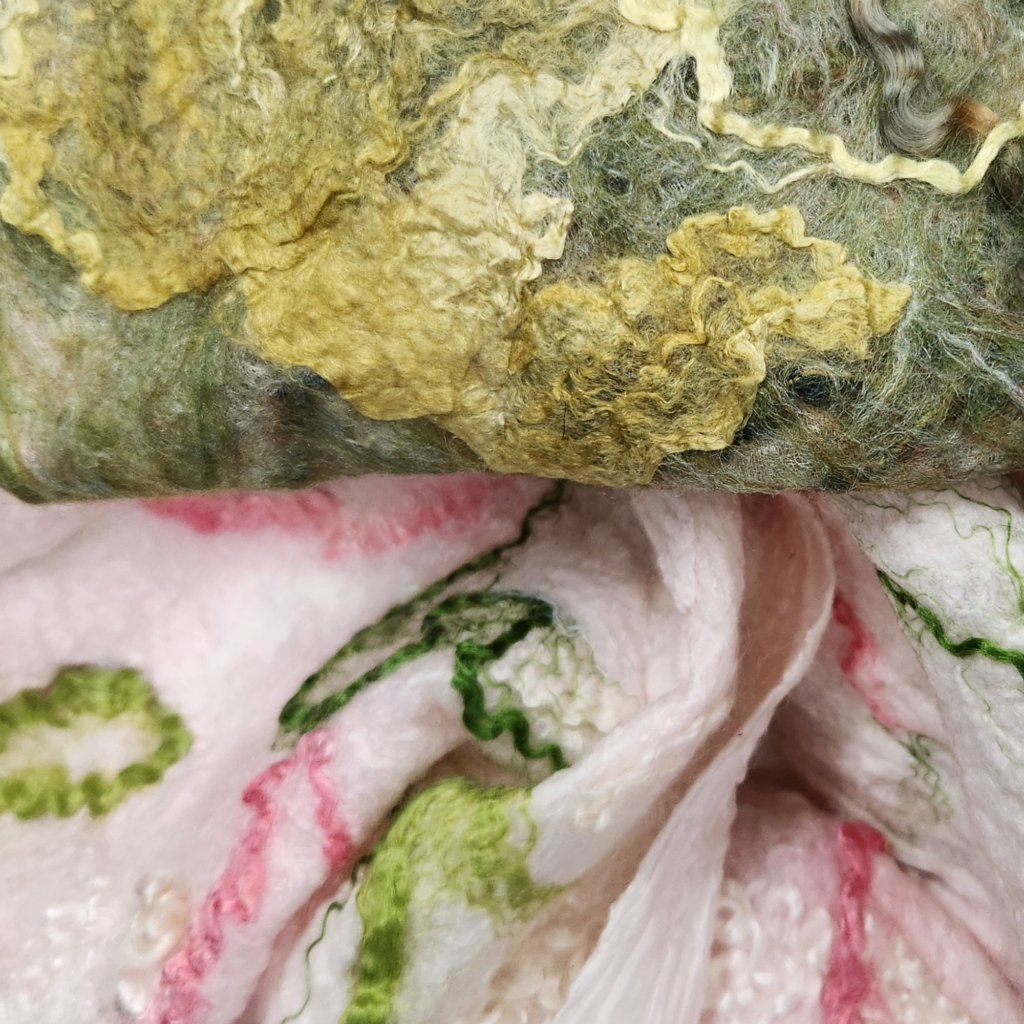 Nuno felt scarves are extremely lightweight, beautiful, and so much fun to wear! In this class, you'll layer small amounts of wool and other embellishment materials onto a silk base fabric, add some soapy water, and apply friction to entangle your embellishments with your base fabric. And, voila! you'll have a beautifully textured Nuno felt scarf that is both sheer and stable. Katrina will guarantee your success by guiding you through the fun creative choices in selecting your embellishments and teaching you the techniques specific to Nuno felting. (Note: While Nuno felting is a repetitive process, it is less physically demanding than traditional wet felting!) Best of all, you'll leave with a fabulous and unique three-season scarf that will garner attention wherever you go.
Katrina Stone is an award-winning fiber artist who enjoys teaching sewing, wet felting, and macrame at the John C. Campbell Folk School, SEFAA, and other regional locations. A fiber fanatic since childhood, Katrina is the current President of the Southeast Fiber Arts Alliance. She makes her home in Gwinnett County with her husband and their fun-loving Boston terriers.
$90 – $105
Additional Supply Fee: None, the $20 fee for all materials and supplies is included in the cost of the class.
Scholarship Available: No.
Level: All
Minimum Number of Students: 5 by September 17, 2023.
Maximum Number of Students: 10
Class Schedule: Class will be in-person at the SEFAA Center from 11 am to 4:30 pm on Sunday, September 24th. There will be a short 1/2-hour break for lunch, so we encourage you to bring your lunch with you. We have a small refrigerator and microwave available for your use.
Covid 19 Policy: SEFAA is following the CDC COVID-19 Community Level guidelines for DeKalb County, Georgia, and masks are required in the SEFAA Center ONLY at High Covid-19 Community Levels.