Nuno Felt Scarf
Nov 06, 2021 10:00AM—4:30PM
Categories Class
Topics felting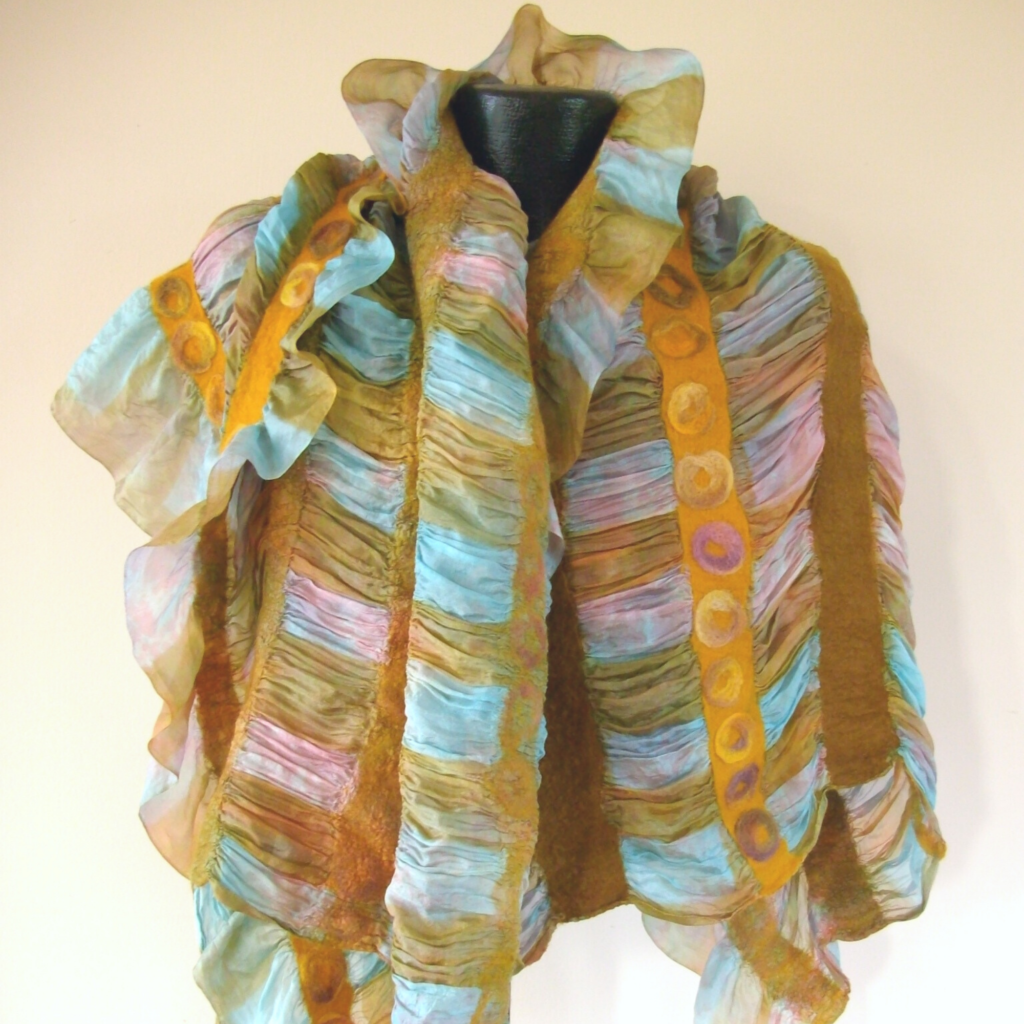 Nuno or laminated felt offers endless possibilities for creating unusual lightweight fabrics by taking advantage of the different shrinkage properties of wool and silk. The "tools" are simple – bubble wrap, hot water, and soap – and the technique is as close to instant gratification you can get in the fiber world. Start exploring this limitless technique by felting your own lightweight scarf in this one-day class! You'll start with wisps of wool and lightweight silk and you'll leave with a unique textile with textured surfaces and complex colors – the result of the almost magical interplay between your materials.
Geri Forkner's fiber art is defined by life-long passions to make one of everything and save materials from the global scrapheap. She studied weaving and surface design at Georgia State University, guild workshops, and craft schools. As a member of the Southern Highland Craft Guild, Geri combines her love of traditional processes with new techniques and technologies. She teaches both children and adults and exhibits her award-winning fiber art internationally. She recently finished a residency at Arrowmont School of Arts and Crafts as part of the Appalachian Craft and Culture Fellowship. Stay in touch with Geri at www.weavingschool.wordpress.com.
$150 – $180
Additional Supply Fee: None. The $30 cost for a 2-yd silk scarf blank, wool, and miscellaneous supplies is included in the class cost.
Level: Beginner – no prior experience necessary. Students with experience will be challenged to build their skills.
Number of Students: 6 – 10
Required Supplies:
3 yd long piece of 12″-wide bubble wrap (small bubble)
old towel
elastic or stocking legs for ties
small container for water
Class Schedule: Class will be in-person at the SEFAA Center from 10 to 4.30 pm on Saturday, November 6th. There will be a 1/2-hr break for lunch.
Covid 19 Policy: Mask wearing is mandatory in the SEFAA Center regardless of vaccination status.