One Pot Magic: Surprising and Satisfying Natural Dye Rainbows
Oct 09, 2021 9:30AM—4:00PM
Location
SEFAA Center 3420 W. Hospital Ave Chamblee, GA 30341
Categories Class
Topics Dyeing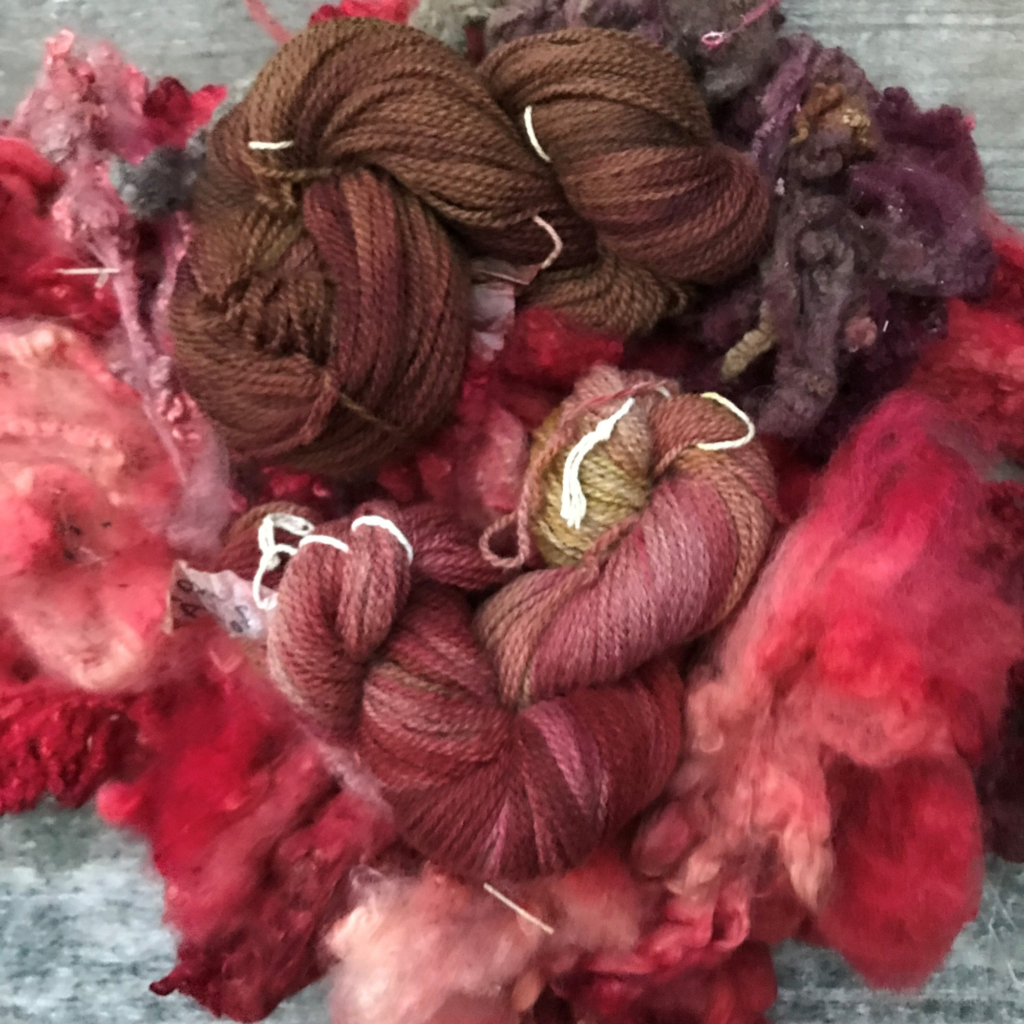 Beautiful, coordinating fleece and yarn can be dyed in one pot. The process is easy: Just layer multiple natural dyestuffs with the materials to be dyed, add a bit of water, cook, cool, and then reveal your one-of-a-kind colorway. It's the easy way to create unique, natural color combinations!
In this hands-on class. you'll explore the process and the possibilities of one-pot dyeing by preparing and cooking four rainbow dyepots with your classmates. You'll also learn how to alter colors to create new hues and how to create mixed source exhaust pots with leftover dye water. You'll receive handouts describing the rainbow dyepot process in detail so that you can repeat it at home, and, best of all, you'll leave with one-of-a-kind, multicolored fleece or yarn (your choice) that you've just dyed. Whether you are new to natural dyeing or have dyed for years, you're sure to enjoy this fun, spontaneous way to dye.
Martha Owen is the John C. Campbell Folk School's Resident Artist in Spinning, Knitting & Crochet, Feltmaking, Dyeing, and Surface Design and she is a member of the Southern Highlands Craft Guild. She's been spinning since 1978 and her extended family has included both sheep and Angora rabbits. Martha also tells a mean story, plays the banjo, and enjoys reading historical fiction for sheep references. You'll find her on Facebook and Instagram @marthaowenwoolens.
$120 – $145
Additional Supply Fee: $15 – $40 payable to the instructor for dyestuffs, pre-mordanted wools to dye (your choice of yarn or fleece), notecards, string, masking tape, cheesecloth, and class handouts.
Scholarship Available: Yes. Click here for details and to apply. Applications are due by September 25, 2021.
Number of Students: 8-16
Required Supplies:
notetaking materials
towel
several plastic grocery bags
apron to protect your clothes or wear old clothes
gloves
Class Schedule: Class will be in-person at the SEFAA Center from 9.30 am to 4 pm on Saturday, October 9th. There will be a half-hour break for lunch.