Painting with Wool: Felted Landscapes
Sep 17, 2022 1:00PM—5:00PM
Categories Class
Topics felting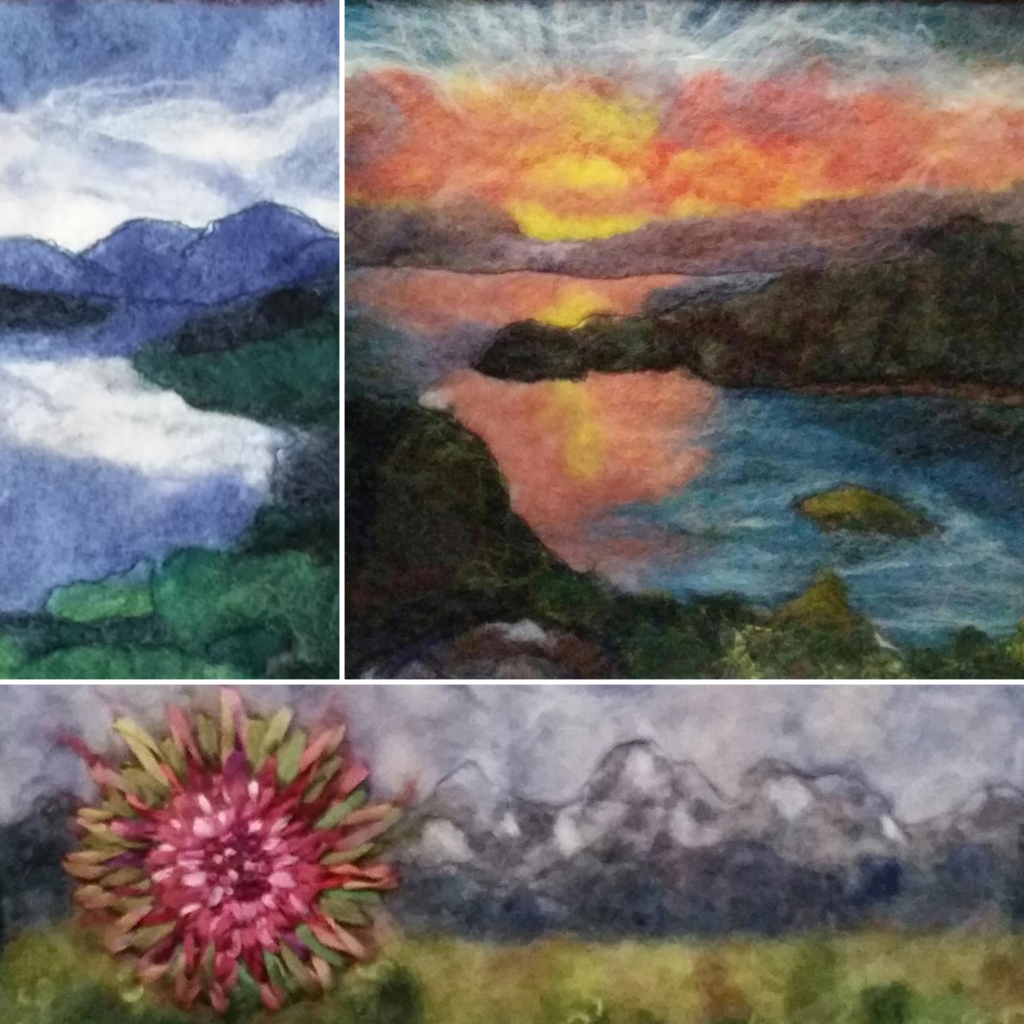 Inspired by landscapes but don't paint? Use wool and other fibers instead to create your own beautiful landscape image. In this 1/2-day class, you'll use felting needles to secure your fibers to commercial prefelt and then complete your work of art with a fast and easy (i.e., non-labor-intensive!) wet felting process. You'll receive your own reusable felting kit (bubble wrap, screen, 2 felting needles, a small piece of foam, and olive oil soap) and can expect to complete one small practice piece and one approximately 8″ x 10″ landscape piece during class. Along the way, you'll learn the basics of color and composition and you'll enjoy Katrina's work samples with a variety of finishing and embellishment ideas.
Katrina Stone has been a fiber fanatic since childhood. She creates award-winning, nature-inspired works that incorporate the fiber techniques she loves – felting, sewing, beading, and knotting (macrame). Katrina is the current president of the Southeast Fiber Arts Alliance and makes her home in Gwinnett County with her husband and their fun-loving Boston Terriers.
$85 – $100
Additional Supply Fee: None, the supply fee of $30 is included in the cost of the class and includes wool and other fibers and a felting kit.
Scholarship Available: No
Level: Beginner – no prior experience necessary.
Number of Students: 6 – 12
Required Supplies:
2-3 old bath towels.
A few sponges.
Appealing landscape images either on your phone or printed.
Class Schedule: Class will be in-person at the SEFAA Center from 1 pm to 5 pm on Saturday, September 17, 2022.
Covid 19 Policy: SEFAA is following the new CDC COVID-19 Community Level guidelines for DeKalb County, Georgia. Mask-wearing is required inside the SEFAA Center only when our Community Level is High.