Riffing on Tradition
Nov 10, 2020 6:00PM—Nov 17, 2020 9:00PM
Topics Quilting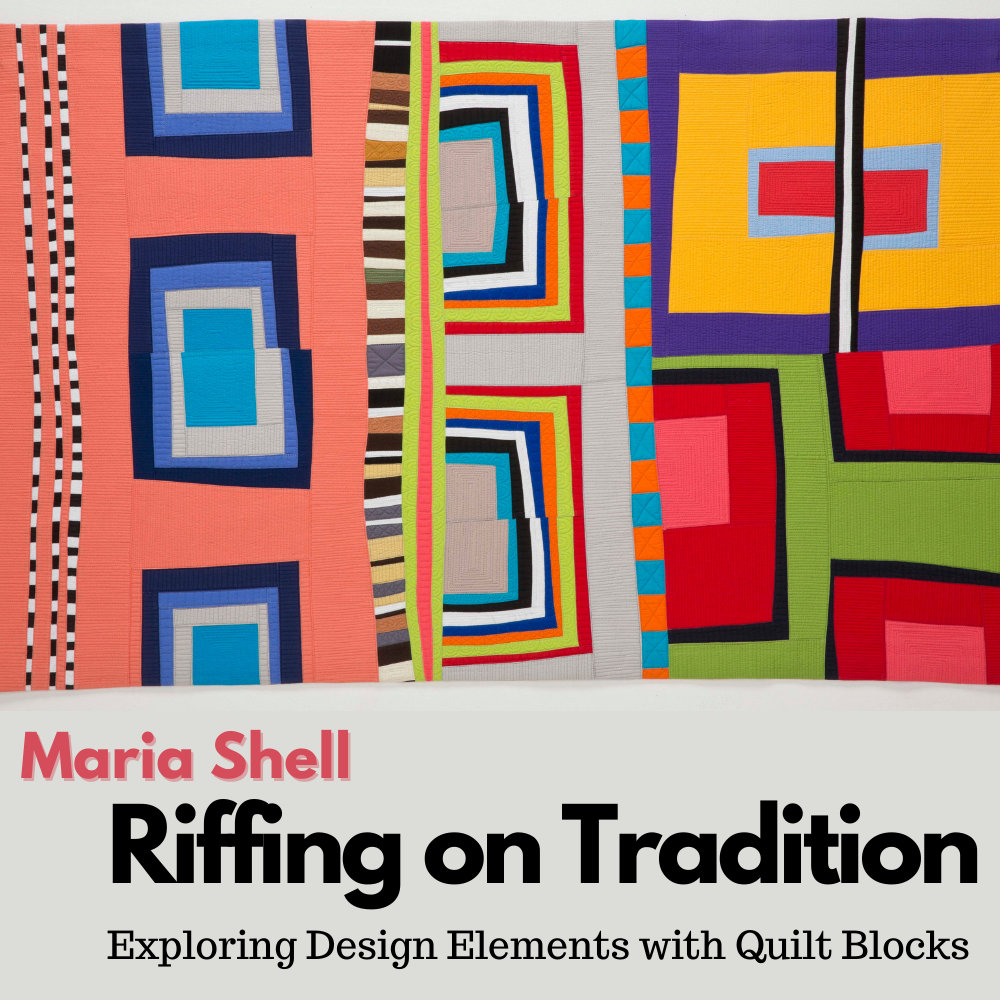 Explore new territory in making contemporary quilts! You'll start with simple traditional quilt blocks and then blow them up, repeat them, and distort them to create fabulous new compositions. Along the way, you'll explore design elements including line, shape, texture, pattern, space, motion, value, and color. This workshop is for you whether you want to hone your construction skills or your design chops or both!
Maria will lecture on construction, composition, artistic excellence, and mindsets and answer questions during two online sessions from 6 to 9 pm on November 10th and November 17th. Then, use the time between the sessions to experiment with improv piecing your own original compositions. FYI, both sessions will be recorded and registered students will have access to the recordings through December 17, 2020.
There will also be an optional (additional cost) third session on December 1st – a feedback session limited to 20 students. Whether or not you choose to share your work or ask questions, you'll learn from Maria's interactions with your classmates in this relaxed and friendly session tailored to your needs.
Maria Shell's work is grounded in the tradition and craft of American quilt making. She strives to take the classical components of a traditional bedquilt and manipulate them to create surprising combinations of pattern, repetition, and color for the viewer. Maria is the recipient of a Sustainable Arts Foundation 2011 Winter Award, a Rasmuson Foundation Project Award and two Rasmuson Fellowships (2009, 2013, 2017). She has had several solo and small group shows including The Pieced Canvas at the Visions Art Museum in San Diego, California and OFF the Grid at the Shelburne Museum in Shelburne, Vermont.  Her first book Improv Patchwork—Dynamic Quilts Made with Line & Shape was published in 2017. Learn more about Maria's process by visiting her blog.
$80 – $95
Additional Supply Fee: None.
Scholarship Available: No
Level: All levels.
Required Supplies: View supply list.