Sandy Teepen Quilted Collages
Aug 06, 2022 10:00AM—Aug 31, 2022 4:00PM
Location
SEFAA Center 3420 W. Hospital Ave. Chamblee, GA 30341
Cost 0.0
Categories Exhibition
Topics All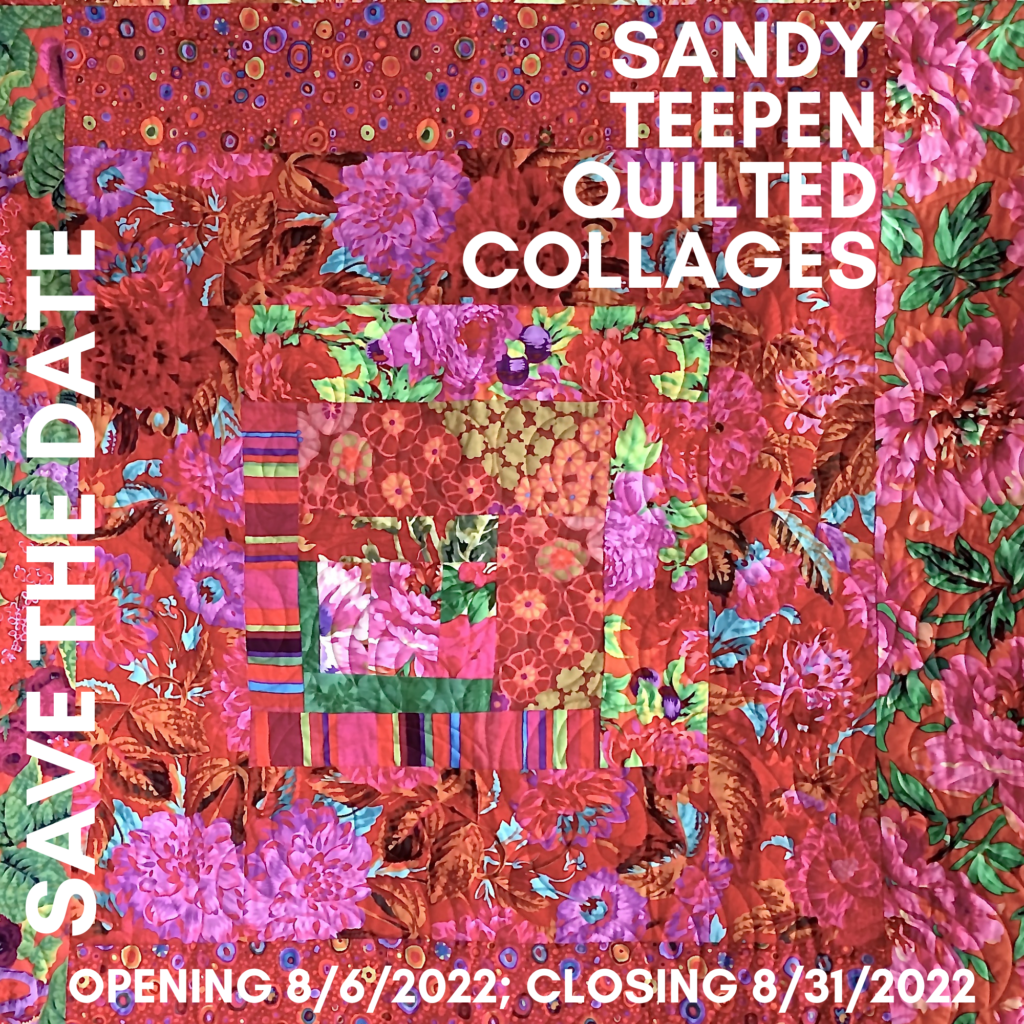 Sandy Teepen Quilted Collages will be on exhibit at the SEFAA Center in August. Please join us for an extravaganza of color and pattern in vibrant compositions. Here is the important information:
Exhibition Opening Reception: August 6, 2022, from 5 pm to 7:30 pm. Click here to RSVP.
Open Times: Mondays, Wednesdays, and Fridays from 10 am to 4 pm; Tuesdays and Thursdays from 10 am to 2 pm; or, by appointment.
Sandy will be artist-in-residence at the SEFAA Center on the following Wednesdays – August 10, 17, and 24 – from 10.30 am to 12.30 pm.
Exhibition Closing Reception: August 31, 2022, from 10.30 am to 3.00 pm. This is your chance to say farewell to Sandy and her collages while enjoying something sweet from Lenox Cupcakes!
Sandy's collages are for sale and she is generously donating 15% of her sales proceeds to SEFAA.
Check out Sandy's WABE interview: Fabric artist Sandy Teepen details her new exhibit at the Southeast Fiber Arts Alliance.
About Sandy: There is a thread that runs through Sandy's life. In fact, there are lots of threads running through it. A fabric artist, Sandy has worked in a wide variety of fabric forms – weaving, costuming, and her current emphasis, quilted collage. Her collages combine traditional forms and imagery with contemporary color sensibilities and design. Her work has been shown in numerous quilt and art exhibitions including the Georgia National Fair and the widely acclaimed Quilts in the Garden event in Livermore, CA.
Covid 19 Policy: SEFAA is following the CDC COVID-19 Community Level guidelines for DeKalb County, Georgia. Masks are required in the SEFAA Center when our Community Level is high.