Silk Dye Painting
Jul 02, 2022 1:00PM—Aug 06, 2022 4:00PM
Location
SEFAA Center 3420 W. Hospital Ave. Chamblee, GA 30341
Categories Class
Topics Surface Design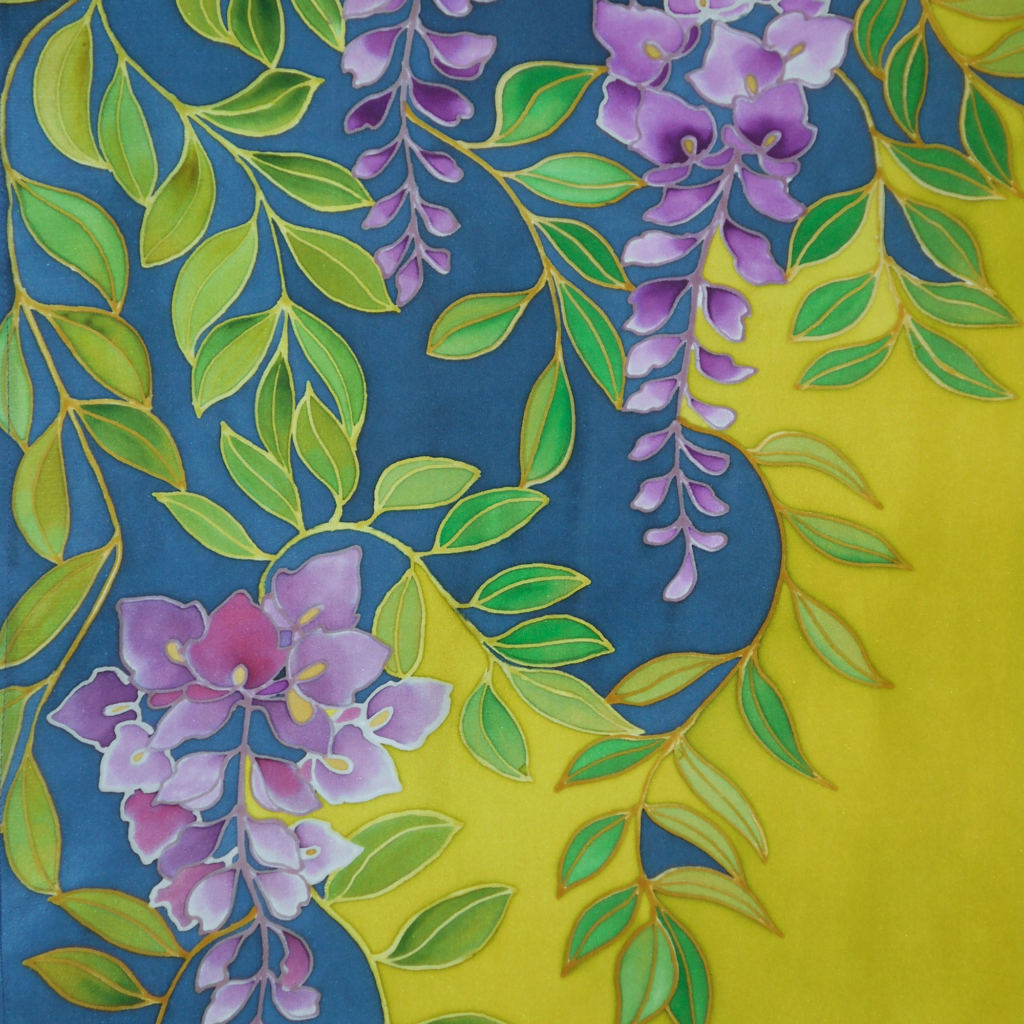 Originating in the Orient, silk dye painting is a beautiful textile art form that uses dye to create permanent vibrant colors on silk fabric. You'll learn many techniques for silk dye painting in this five-session class, focusing on the "serti" or resist-lines method and using a safe, water-based resist. You'll work on 18″ x 18″ silk squares to master the steps and to gain the confidence and knowledge you'll need to create complicated dyed paintings later. Sessions will be 3-hours long with a week or more break in between sessions for you to "digest" what you've learned before exploring other techniques. Finally, during the last class, you'll learn how to use your finished squares – as textile paintings and more!
Originally a ceramics major, Hellenne Vermillion fell in love with silk painting over ten years ago and she's been creating various silk works for shows and art sales ever since. Her work has been featured three times on the cover of Silkworm magazine and has been in many silk art shows. She is also an experienced, giving, and patient instructor who teaches a wide variety of textile techniques. View Hellenne's artwork at hellenne-vermillion.com.
$225 – $270
Additional Supply Fee: None, the class kit fee of $20 is included in the cost of the class. The kit includes 1/2-yd 10 mm habotai silk, an 18″ square of silk charmeuse, an 18″ square of silk gauze, four eye dropper bottles filled with basic dye colors, an applicator bottle with nib filled with Resistad plus the use of the instructor's supplies and equipment.
Scholarship Available: No
Level: Open to all skill levels.
Number of Students: 5 – 10
Required Supplies:
Gloves.
Apron
Inexpensive watercolor brushes – round and that come to a point about 3/8″ or more in (not stiff oil/acrylic brushes).
Class Schedule: Class will be in-person at the SEFAA Center from 1 to 4 pm on the following Saturdays:
July 2
July 9
July 23
July 30
August 6
Covid 19 Policy:
Colors can be arranged in a circle or color wheel to visually show the basic relationships between them. You probably made one as a child, mixing red, yellow, and blue paints to make new, intermediate colors. In this class, though, you'll use natural dyes to create your own yarn/fiber color wheel. Working collaboratively, you'll start indigo, cochineal, and osage orange dye pots and then use mordants, additives, and mixing to create up to nine additional colors. You'll go home with beautiful yarns and fibers to play with and, hopefully, the excitement to continue your natural dyeing adventure!
Paula Vester started spinning 40 years ago and even today continues her quest for spinning and dyeing knowledge. She has been teaching formal classes since the mid-1980s and she has taught throughout the Southeast, as well as at The Estes Park Wool Market in Colorado, the Taos Wool Market in New Mexico, and at regional and national conferences.  Paula teaches to share her joy and excitement with students.
$115 – $135
Additional Supply Fee: None! $30 for fibers, dyes, and handouts is included in the cost of the class.
Scholarship Available: No
Level: Open to all skill levels.
Number of Students: 7 to 12
Required Supplies:
Rubber gloves.
Plastic zip lock bags to take home wet items.
Also, please wear old clothes and wear comfortable shoes.
Optional: Your own yarns and scoured fibers to use in exhaust baths.
Class Schedule: Class will be in-person at the SEFAA Center from 10 am to 5 pm on June 11, 2022. There will be a short 1/2-hr break for lunch, so we encourage you to bring your lunch. There is a small refrigerator and a microwave available for your use at the SEFAA Center.
Covid 19 Policy: SEFAA is following the new CDC COVID-19 Community Level guidelines for DeKalb County, Georgia. As of 3/21/2022, our Community Level is low, and mask-wearing inside the SEFAA Center is optional.