Spinning Art Yarn: From Corespun to Tailspun
Apr 29, 2023 10:00AM—Apr 30, 2023 4:30PM
Location
SEFAA Center 3420 W. Hospital Ave Chamblee, GA 30341
Categories Workshop - Regional
Topics Spinning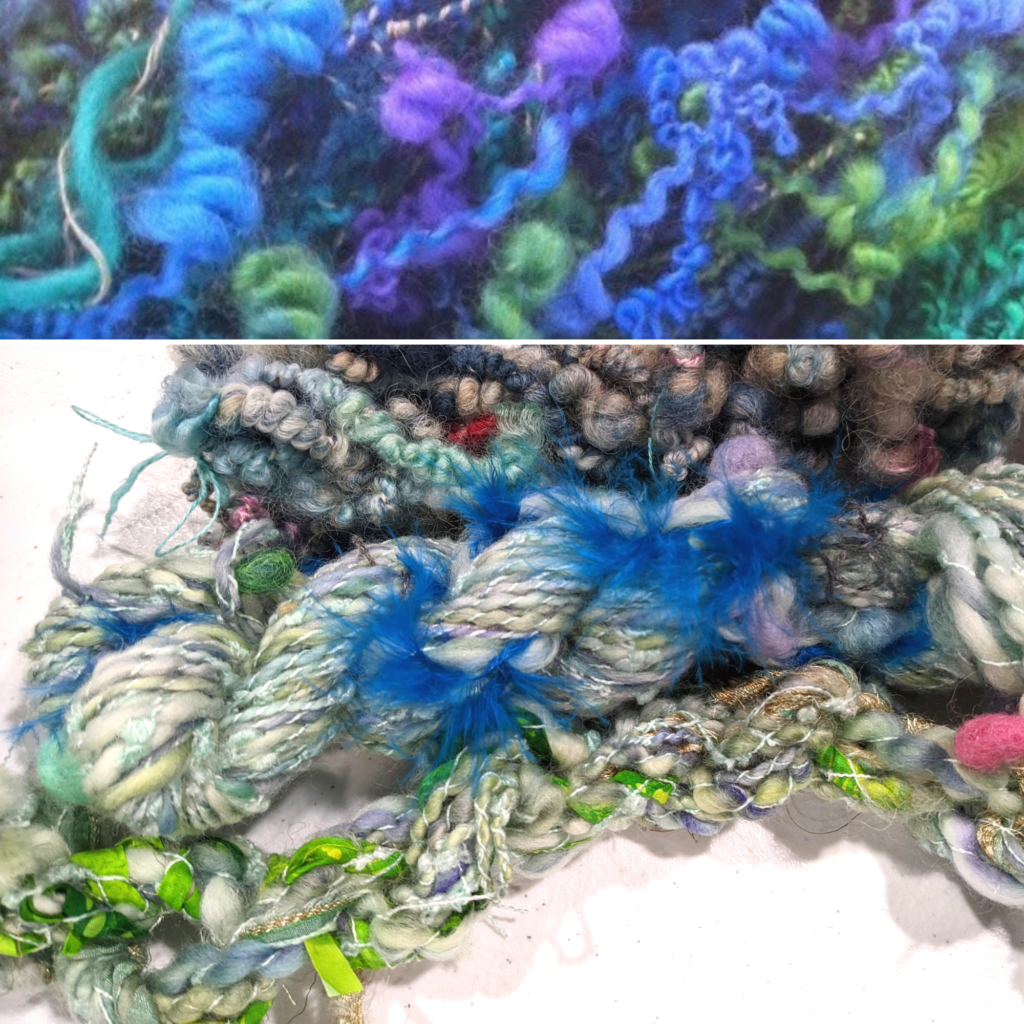 Once you've mastered the art of handspinning, have some fun and dip your toes into the wonderful world of art yarn or novelty yarn spinning! This two-day, fast-paced class will teach you how to confidently spin well-constructed, fanciful yarn. You'll learn basic skills including fiber preparation, core spinning, using add-ins, and spinning locks plus extra techniques like auto-wrapping and spinning boucle. There will be step-by-step instructions, plenty of demonstrations, and lots of time to make batts and experiment. Along the way, you'll also receive tips on how to use your fun yarn in your future textile projects.
Instructors: Judi Jetson is a fiberactivist with a community economic developer's heart. Her grandmother taught her to knit at age five, she did tie dye and batik in the 60s, learned to weave in the 80s, and has added many more techniques to her fiber artist skill set since then. She moved to Asheville in 2010 to work for HandMade in America, helped found Local Cloth in 2012, and has taught at the John Campbell Folk School, UNC-Asheville, Haywood Community College, and Local Cloth. Beth Sellars is Local Cloth's Retail Committee Chair and Studio Manager. After years in professional sales, Beth started her own needle felting business, CurlyFurr, which features creatures as well as hand-dyed batts, locks, and roving. She's had nearly 20,000 sales since she opened in 2011! Beth spins on an electric wheel while Judi spins on a Wee Peggy castle wheel.
$265 – $320
Additional Supply Fee: None. A $20 supply fee for a generous supply of roving, locks, fleece, add-ins, and core yarn is included in your registration fee. The fee also covers the use of the instructor's drum carders and tags to mark your samples.
Scholarship Available: No
Level: Intermediate
Required Supplies:
Spinning wheel in good working order.
Several bobbins
Niddy noddy,
Fiber to contribute to the stash table – especially fiber you don't like!
Class Schedule: Class will be in-person at the SEFAA Center from 10 am to 4.30 pm on Saturday, April 29th, and Sunday, April 30th. There will be a short, 30-minute break for lunch. There is a refrigerator and a microwave available for your use at the SEFAA Center.
Covid 19 Policy: SEFAA is following the CDC COVID-19 Community Level guidelines for DeKalb County, Georgia. Masks are required in the SEFAA Center at High Covid-19 Community Levels.