The Elements and Principles of Art for Textile Artists
Jun 05, 2021 10:00AM—Jun 12, 2021 1:00PM
Topics Design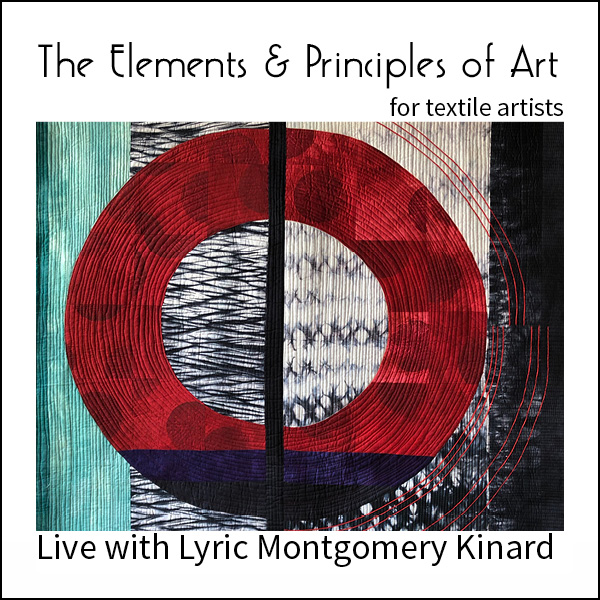 Every single work of art you see is a composition of various elements – texture, shape, line, color, and value – arranged according to principles – balance, unity, and focal point to name just a few. Whether you think about them consciously or design intuitively, these are your tools. Using them will help you create work you love, help you discover what is and isn't working in each piece you create, and help you find your vision and hone your creative voice.
Lyric will help you see, understand, and analyze how each element and principle works by presenting them in an entertaining and practical way during this two-session virtual class. With playful support and gentle encouragement, she'll translate the language of ART into delightful and simple-to-understand concepts, enabling you to see the world through the eyes of an artist. Whether you applique or weave or anything in between, this class will open your artistic toolbox, kickstart your creativity, and take your creations to the next level!
Lyric Montgomery Kinard is an award-winning artist and instructor who transforms cloth into art in her studio and transforms timid spirits into confident creatives in her classroom. She is the author of Art + Quilt: Design Principles and Creativity Exercises, she has written extensively for Quilting Arts Magazine, and she has appeared on Quilting Arts TV and The Quilt Show. She was also recognized as the 2011 International Association of Professional Quilters Teacher of the Year. In her past life, Lyric was a musician, earned a BA in English Literature from the University of Utah, and formally studied architecture. She currently lives in Cary, North Carolina with her husband and some of their five children.
$145 – $175
Additional Supply Fee: None
Scholarship Available: Yes. Click here for details and to apply. Applications are due by May 14, 2021.
Level: All
Number of Students: 10 – 24
Supplies to have on hand:
Sketchbook, 8×10 or larger, preferable spiral bound. Or, plain computer paper.
Pencil and any other favorite marking tools.
Pen, black permanent ink preferred.
Glue sticks and damp cloth to wipe off sticky fingers.
Paper and fabric scissors.
Pile of scraps for collage – fabric, colored papers, old magazine photos.
An attitude of playful exploration.
Optional but useful: smartphone or digital camera.
Class schedule: The first session of this virtual class will meet from 10 am to 4.30 pm EST on Saturday, June 5, 2021, with a one-half hour break for lunch. Session two will be from 10 am to 1 pm EST on Saturday, June 12, 2021. You will receive the information you'll need to join us online in your registration confirmation email. Between sessions 1 and 2 of this class, you will have access to Lyric's online class space where you can post your work and receive feedback. Note: The live class sessions will not be recorded.