Traditional Yoruba Indigo Resist Dyeing Techniques
Sep 09, 2023 10:00AM—Sep 11, 2023 5:00PM
Location
SEFAA Center 3420 W. Hospital Ave Chamblee, GA 30341
Categories Workshop - National
Topics Dyeing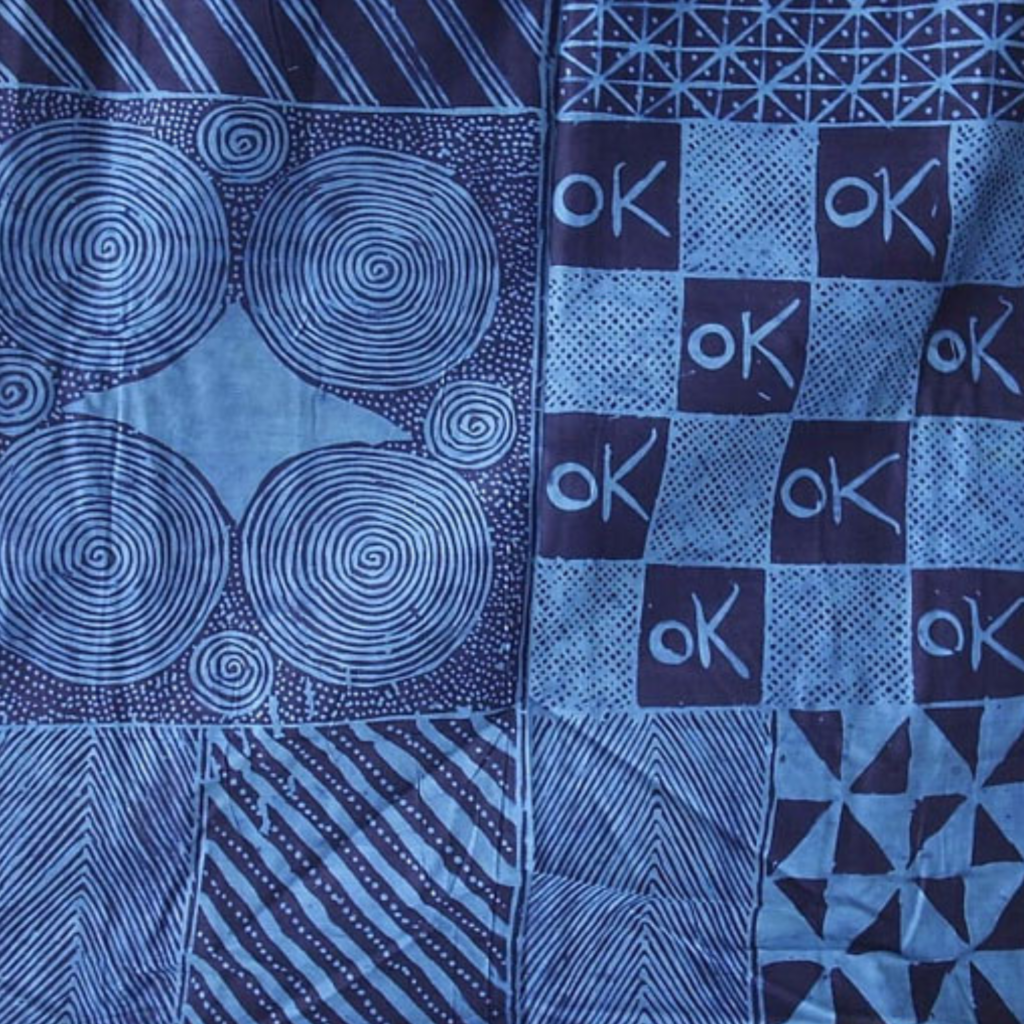 Learn traditional Yoruba dyeing techniques with Nigerian artist Gasali Adeyemo! Starting with white fabric, you'll create pattern using the following Adire (resist) techniques:
Adire Eleko or starch resist – Cassava (yucca) paste is painted onto fabric a small broom or chicken feather or printed onto fabric with stencils.
Adire Oniko or tie dye – Raffia is tied around fabric to create patterns.
Adire Alabere or stitch resist – Raffia is stitched onto the fabric to create patterns.
Once your patterns have been created, you'll dye your samples in a rich blue indigo vat prepared by natural fermentation. Then you'll remove the paste and raffia to reveal an amazing variety of patterns.
Along the way, you'll learn how to prepare cassava paste, how to prepare and use wild indigo (elu in Yoruba), and how to remove cassava paste and raffia from your work – everything you'll need to know to continue your adire cloth journey at home. Gasali will also share his story, his culture, and the meanings behind the resist designs as he teaches.
This is your chance to delve into the mythology, beauty, and techniques of Yoruba textiles, to explore their contemporary applications, and to be introduced to Yoruba culture. Don't miss it!
Instructor: Born in a small village in Nigeria, Gasali Adeyemo realized his artistic potential at a young age. He trained for six years at the Nike Center for Arts and Culture with a focus on the fiber arts (batik, indigo, quilt making, embroidery, and applique). Then, he began conducting workshops to help people from around the world understand the arts and culture of the Yoruba people. Now a world-renowned artist, he has been teaching and exhibiting in the US since 1996.
$450 – $540
Note: You will save at least $30 if you join SEFAA before registering for this class!
Additional Supply Fee: None. $40 for the use of the instructor's materials and supplies is included in your registration fee.
Scholarship Available: One available once seven students have registered. Please email for more information.
Level: All
Number of Students: 6 to 13
Required Supplies:
2 yards of 100% pdf (prepared for dyeing) white cotton fabric
apron
scissors
rubber gloves
notebook and pen
Optional: You can bring a tote bag, scarf, or t-shirt for dyeing as long as it is 100% cotton or silk.
Class Schedule: Class will be in-person at the SEFAA Center from 10 am to 5:00 pm on Saturday, September 9th, Sunday, September 10th, and Monday, September 11th. There will be a one-hour break for lunch, and there are a refrigerator and a microwave available for your use at the SEFAA Center.
Covid 19 Policy: SEFAA is following the CDC COVID-19 Community Level guidelines for DeKalb County, Georgia. Masks are required in the SEFAA Center at High Covid-19 Community Levels.