White to Wow – Kitchen Safe Dyeing
Apr 03, 2021 1:00PM—Apr 17, 2021 2:00PM
Categories Virtual
Topics Dyeing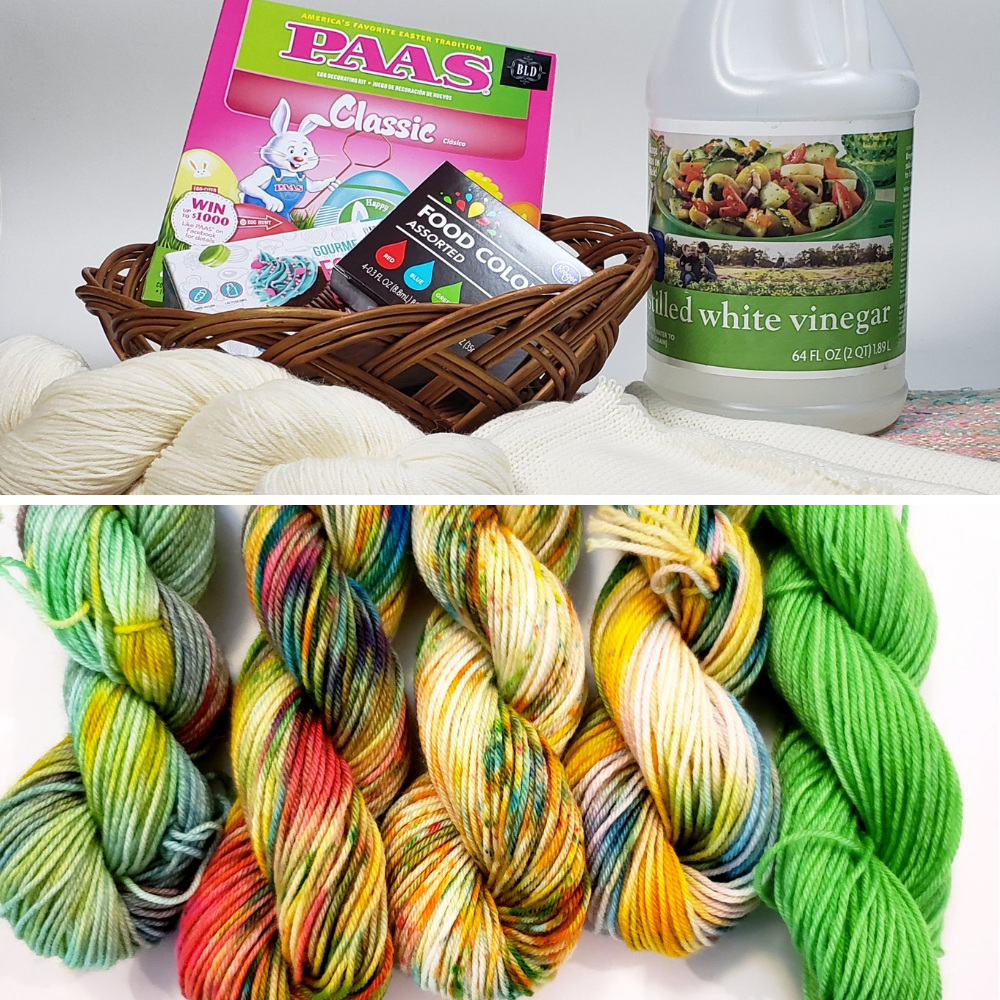 Learn to dye with food coloring and Easter egg dyes and create beautiful hand-dyed yarns with minimum fuss and maximum fun! We'll send you the dyes, wool yarn, and instructions and then guide you through the kitchen-safe process virtually. Session 1 will be a live presentation covering the materials in your kit and how to use them. Then, you'll try out several dyeing techniques on your own in between sessions – you'll dye a skein of sprinkle yarn with crushed Easter egg dyes and several smaller solid-color skeins that coordinate. You'll have dye left over, so you can get creative with whatever protein fibers/fabrics (wool, silk, or Easter eggs) you have on hand. Session 2 will be your chance to ask follow-up questions and show off your colorful creations. Then you can share this easy and creative activity with your family and friends.
Gale Evans has loved fiber arts ever since her grandmother taught her needlepoint and cross-stitch in elementary school. She didn't focus on that love, though, until she studied indigo dyeing in Fukuoka, Japan, and batik in Indonesia during her five-year stay in Japan. When she returned to the US in her early 30's, Gale put a serious career spin on her amateur obsession, and she's been dyeing yarns and fibers for Gale's Art ever since. Gale sells her art online at www.galesart.com and at a variety of festivals and shows across the country.
$35 – $42
Additional Supply Fee: None. Supply kit fee for dyes, yarn, and miscellaneous supplies are included in the class cost. Note: Register before midnight March 26th so that we have time to mail your supplies to you.
Scholarship Available: No
Level: Beginner
Required Supplies:
White vinegar, 2 cups maximum
Paper towels
Spoons
Microwaveable bowls and plates (white or clear will allow you to see your colors better)
Small plastic cups or an ice cube tray
Microwave
Optional Supplies: Gloves, an apron, and plastic to protect your work surface from stains.
Dates and Times: We'll meet virtually from 1 to 2 pm on Saturday. April 3rd and again on Saturday, April 17th. (You'll receive the class Zoom link in your registration confirmation email and we'll provide the link again in a reminder email just before the first class.)