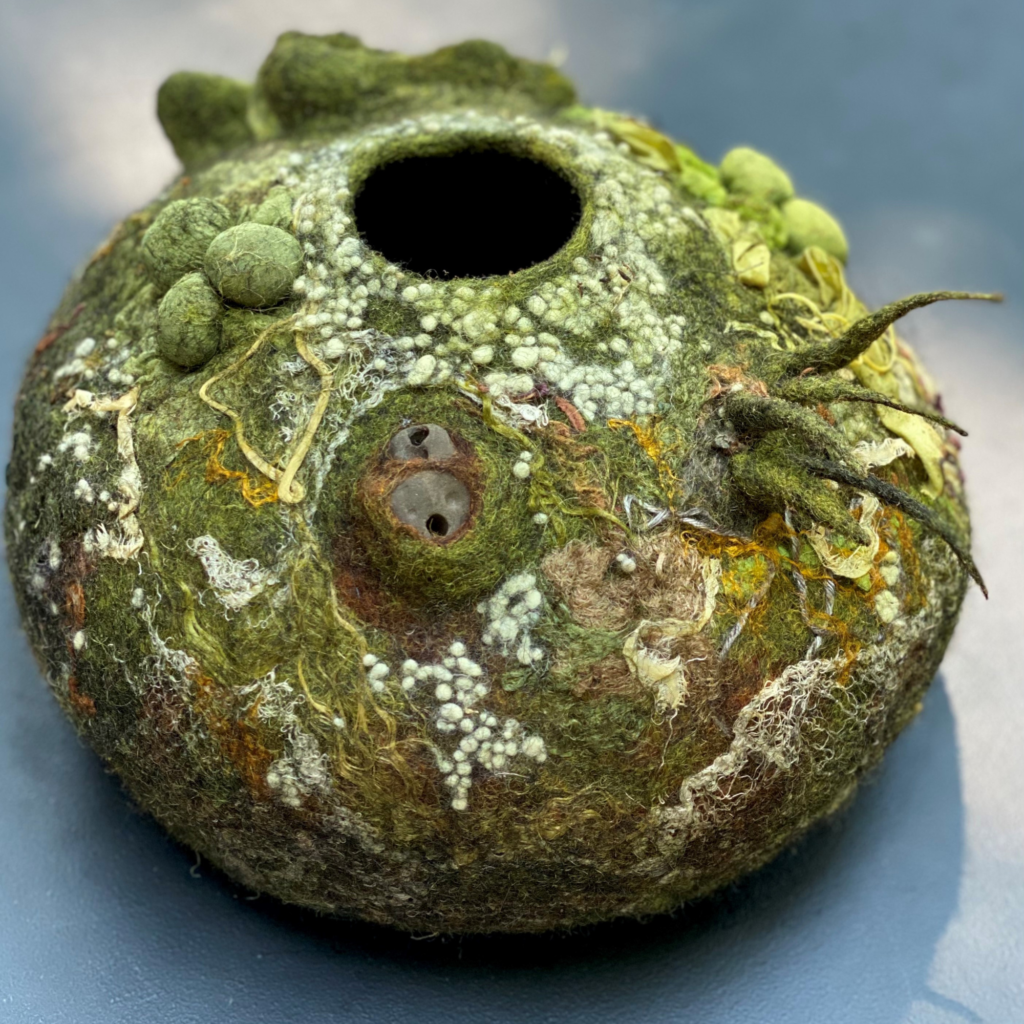 Create a fabulous felt vessel resembling a forest floor in this two-day class! Start by wet felting around a flat resist to create a seamless, hollow, shape. Then, create visual interest and a highly textured surface by exploring a myriad of embellishment methods. Watching your flat felt pieces become a three-dimensional, woodsy vessel is magical! Best of all, you will be able to apply the techniques and tips learned in this class to add texture to future felt projects, such as bags, hats, and wall hangings.
Dawn Edwards is a felt artist and tutor based in Plainwell, Michigan who expresses her love of color, texture, and beauty in everyday life through felt. Her work has appeared in numerous exhibitions including Fiber Art Now's "Fiber Transformed" and the International Feltmakers Association's "Reconnect"; books including Ellen Bakker's book Worldwide Colours of Felt; and magazines including Felt, Felt Matters, Shuttle, Spindle & Dyepot, and Felt Fashion. Dawn is also a member of the Signature Artists' Cooperative in Kalamazoo, Michigan, the co-coordinator of FeltUnited which unites felt makers from around the world, and she teaches extensively within the US and internationally.
$300 – $360
Additional Supply Fee: None! The supply fee of $35/student for wool batts and embellishments is included in the cost of the class!
Required Supplies (Student provided):
3 old bath-size towels
a plastic bucket for water
a small bottle of regular Dawn dish soap (no Oxy or bleach formulas) or your favorite felting soap
very sharp, pointy scissors for cutting into felt (Fiskars are great)
9-10 marbles
9-10 buttons, color doesn't matter, size: 1 – 1-1/4 inches
Optional: a Ball Brause
Scholarship Available: No.
Level: Suitable for all levels. Note: We will be rolling our felt which requires some physical exertion. Please wear comfortable shoes and clothes.
Minimum Number of Students: 8 by October 1, 2023.
Maximum Number of Students: 12
Class Schedule: Class will be in-person at the SEFAA Center from 10:00 am to 4.30 pm on Thursday, November 9th, and Friday, November 10th. We will have a short 1/2-hour break for lunch, so we encourage you to bring your lunch with you. We have a small refrigerator and microwave available for your use.
Covid-19 Policy: SEFAA is following the CDC COVID-19 Community Level guidelines for DeKalb County, Georgia, and masks are only required in the SEFAA Center only at High Covid-19 Community Levels.