Wool Embellishment
Aug 01, 2020 1:00PM—Aug 16, 2020 2:00PM
Topics Needlework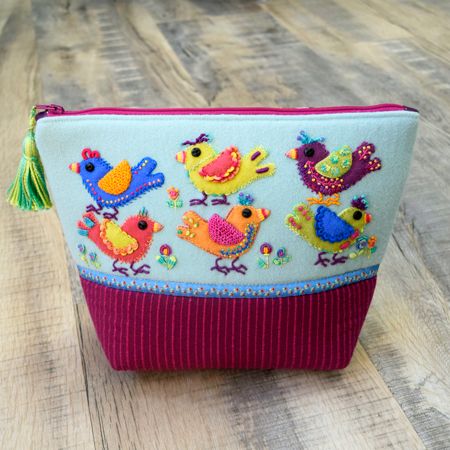 Create a flock of cute birds while learning new wool applique' embellishment stitches – bullion rose, cast on bullion knots, couching, detached chain stitch, double cast on stitch, drizzle stitch, open buttonhole filler stitch, Pekinese stitch, Tete de Boeuf stitch, threaded backstitch, and woven picot. You'll learn a few stitches in each of the four one-hour sessions (on August 1st, 2nd, 15th, and 16th) and then have time to practice and perfect your stitching in between classes. Sew up your bag after the last class and enjoy using it for years to come!
The class sessions will be live, so that you can see stitch demonstrations up close and have your questions answered in real time. They will also be video taped for you to refer back to in between classes and to catch up if you have to miss a session. The videos will only be accessible to registered students and will only be up for 60 days.
Instructor: Diana Quinn has been sewing and crafting for most of her life, learning to embroider as a child. She has continued to refine her skills as an adult and is an accomplished quilter and wool embellishment artist. Her wool embellished quilts have won ribbons at local quilt shows.
$125 – $145
Additional Supply Fee: Please order the following supplies from suespargo.com as soon as you register to ensure that they arrive a few days before the first class. There will be a small amount of pre-class preparation required:
Zip Bag Kit Components

Peep Party Zip Bag Kit – $34.00
Peep Party Zip Bag Ellana Wool Thread Pack – $21.00
Peep Party Zip Bag Embellishment Thread Pack – $52.50
Note: To save money, one Wool Thread Pack and One Embellishment Thread Pack can be shared between up to three students if one is willing to wind off threads for others. Also, there is no need to purchase the Efina Cotton Thread Pack ($7) listed as a kit extra since you can use regular sewing thread.

Books
Scholarship Available: No
Level: Intermediate, students should already be proficient in the following basic stitches: whip stitch, bullion knot, chain stitch, fly stitch, closed fly stitch, and French knots.
Required Supplies:
Needles
Clover Embroidery Needle Threader (Also available from Amazon.)
Scissors

Small scissors – embroidery and paper
Medium scissors

Freezer paper – 8.5″ x 11″
Pencil
White chalk pencil
Small pin cushion
Thimble
12″ ruler
Small cutting mat
Rotary cutter
(Image credit: suespargo.com)