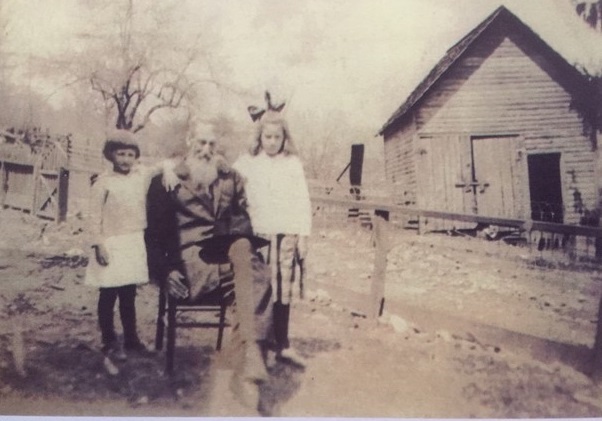 Saving Ms. Lizzie, Part 4
By: Corrie Habib
the saga continues…
Jan. 2022: Kids go back to school, but it's not a week back in the dorm before one heads home with breakthrough Covid for a long weekend in the basement apartment. I, like many others, started a new year knit-a-long project (https://ravel.me/cuff-to-cuff-jacket). Ms. Lizzie hangs out in her corner, clearly enjoying the climate-controlled life.
Dad reports that Lizzie's wheel is hanging out on her plywood table but the garage is "too d*mn cold to work in." And since he doesn't smoke his pipe anymore, he doesn't venture into the workshop multiple times a day anymore. But his lungs and his daughter will excuse the delay in wheel work for the health benefits.
I did take a minute to look up the real Ms. Lizzie: Elizabeth Loraine VanZandt (1883-1969). Interestingly, she had a sister named Leila which is my daughters' name and spelled the exact same way. Found a photo of her with her father, Lewis Lafayette VanZandt in Dial, GA.
Feb. 8: I awake to the vibration buzz of my phone with a long text message from my dad with multiple pictures. I have never been a morning person, but my father is one of those up-at-four-AM-multiple-cups-of-coffee-before-sunrise people. Apparently, he took a notion to get the rest of the wheel all apart. Typically, with projects involving my father, there is a prolonged period of thinking and planning before doing. I tend to jump right in assuming that there is nothing I can't do and I'll figure it out as I go along. I hear the encouraging voice of Tim Gunn in my head: "I believe in you. Make it Work!" This often erroneous assumption of self-competence is why I hate to make gauge swatches and struggle to make garments that fit as expected. Probably why I like to make scarves and shawls and blankets and ponchos and wraps and not so much socks and sweaters. Yet again, I digress…and need more coffee.
Text Message: "5, of 11, spokes were broken at the hub. They are right in a row. They have all been "repaired" in fairly recent times (finishing nails). The fabric inserts are on almost all the unbroken ones. The fabric pieces are alike. I think that they were part of the original construction. 
My guess is that it took a hell of a whack on one side of the wheel, perhaps while mounted on the axle. The repairs were to make it look like a spinning wheel, not to function. 
The rim is one piece of oak.  The strip it was made from would be about 12 ft long. I'm sure that it would have to be steamed. That means a steam chamber (pipe) 12 ft long. It would then immediately go to a form, around which it would be bent and clamped to cool and dry.  
They would not have been built 1-off out in the shed. 
The rim has no damage. It is about 3cm 'out of plane'.  I figure I'll have a soak and steam (handheld clothing steamer) then clamp it to the flat board. No spokes or hub. I'll need to do something to compensate for the 'spring back'.  
The ends of the strip were overlaid and riveted with 7 pairs of neatly spaced hand-wrought nails.  They haven't been disturbed since it was built."
I'll keep you posted as progress is (or isn't) made.